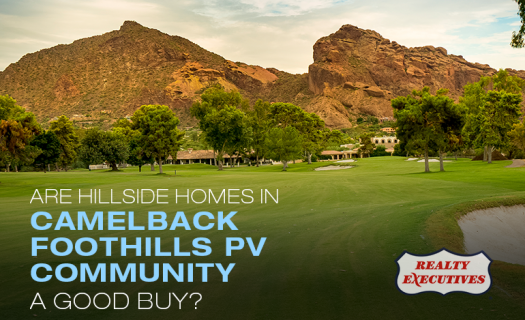 are extremely popular these days. This is because the neighborhood has just about everything to offer you could possibly want. It's got a peaceful and high-class way of life, amazing schools, access to the great shopping, arts and culture, and fine dining available in the Phoenix Metro Area—all of this and more while offering gorgeous architecture and landscape vistas.
Beautiful Mountain Vistas
There is absolutely nothing like the view of a gorgeous mountain vista, and that's exactly what Camelback Foothills homes offer: mountainside living with all that entails. Get up every morning and enjoy the stunning colors of an Arizona sunrise with a cup of coffee in your sunroom, looking out over some of the most beautiful mountains the nation has to offer. Relax at sunset with a cocktail, and do it all over again. It's peaceful, serene and a great way to both start your day and escape from the stresses of work before turning in for the night.
Astounding Amenities
No matter what you're looking for in an affluent neighborhood, Camelback Foothills homes can offer it. Do you want a massive custom swimming pool? That's almost a given. How about an indoor spa? There are homes with those as well. A dream backyard oasis and living space with complete options for entertaining guests—easy. Access to the very best in fine dining, shopping, cultural events and art installations are right around the corner in the nearby city. The amenities available to those who live in this neighborhood are second to none.
Modern and Stylish
If you're looking for the best in ultramodern architecture and stylish, contemporary living, you can't go wrong with homes in this region of Paradise Valley.The homes available in this area offer the most current architectural stylings and custom facilities to meet just about any desire or style of living you could imagine. You won't be behind the times when you live here—you'll be leading the pack!
Be the Local Hot Spot
With all of the above offerings, those who live in Camelback Foothills are poised to be the most sought-after hotspot for their friends and family. If you like to entertain, your home in this region will set you up as the place to be. Your guests will love mingling in the view of a great sunset over the mountain views as they lounge in the pool or hot tub, and will revel in your ultra modern architecture.
If you can't wait to get into a home that will provide the greatest view you can imagine and the best in modern architecture, as well as being a perfect venue for having social events, don't wait. Hillside homes in Camelback Foothills don't stay on the market long. Check out our listings, and contact a Camelback Foothills Paradise Valley Realtor for more information today!
______________________________________________
Are you interested in houses for sale in Camelback Foothills? Contact Thomas Osterman, an experienced Paradise Valley Realtor. Call 602-405-4052 to speak with Thomas now!
Read related articles: