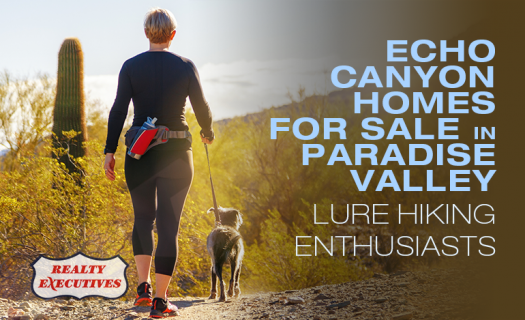 Great news for outdoors lovers: there is an amazing selection of Echo Canyon homes for sale in a wide variety of styles, sizes and price ranges. All of these homes are located within walking or biking distance of the Camelback Mountain and Echo Canyon recreation area.
Some even back up to natural mountainside lots, allowing for quick access to semi-private trails that few people even know about! Imagine having a secret hike you can go on in evenings or on the weekends, away from the crowds of the public park. Many of these homes are also gorgeous and come with luxurious amenities like gated driveways or backyard swimming pools.
So explore the available listings of homes for sale in Echo Canyon to get a rare chance at having a natural paradise become your literal backyard. Here is what you may find:
Exclusive Access to Private Trails
Avoid the crowds by exploring Camelback Mountain trails and hideaways with your spouse or your family. Make sure to bring a compass, a map and plenty of water since so you can stay hydrated and avoid getting lost, though.
For those who become familiar with the lay of the land and who have the physical fitness to enjoy hikes in hot weather, exploring switchbacks, gulleys and sweeping vistas can be a rewarding experience rich with memories of landscapes that would put even the best painter to shame.
Access to Camelback Mountain
Camelback Mountain summit trail is one of the most dramatic and rewarding hiking trails worth going on. Not only do you get to experience the mountainside landscape up close and personal, but you get to climb to the top to witness Phoenix and Scottsdale spreading below you.
The only problem for out-of-town folks is parking. Not so for those who live near Echo Canyon or Paradise Valley! They can walk, carpool or bike to the trailhead and enjoy all of its scenic beauty without having to fight for a spot to park. You can also enjoy Cholla Trail, which also offers rewarding mountaintop views.
Quick Access to Surrounding Mountain Ranges
Echo Canyon and Camelback Mountain are not the only areas worth exploring near Paradise Valley. There is also McDowell Mountain, South Mountain Park, Four Peaks, Superstition Wilderness and Tonto National Forest — most within less than an hour's drive!
Pinnacle Peak is one such trail, located in North Scottsdale. It offers a moderate hike filled with captivating wildflowers and other native flora and fauna. You could even go horseback riding.
Best of all, there is a plethora of high-end shops and restaurants in the area, offering the perfect way to cool down after a long day's hike.
Phoenix Mountains Park is another area filled with amazing trails, located just a few blocks away from Camelback Mountain. Quartz Ridge is an easy-to-moderate hike there, perfect for families.
So become neighbors with the mountains and the nighthawks by asking an Echo Canyon Paradise Valley Realtor about properties right next to the trails.
_______________________________________________
Are you interested in houses for sale in Echo Canyon? Contact Thomas Osterman, an experienced Paradise Valley Realtor. Speak with Thomas by calling 602-405-4052 now!
Read related articles: