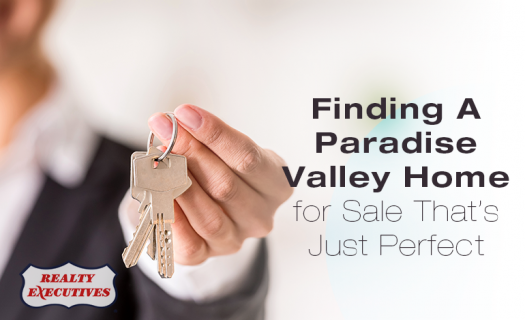 Finding your dream home in Paradise Valley can be an exciting, but overwhelming task. There are a few things you can do to narrow your search and ease your anxieties when looking through the listings. With your own research, must-have list and the help of the right realtor, finding your dream Paradise Valley home for sale can eliminate any unwanted frustrations.
Conduct Your Own Research
When you are considering buying a home, what you're really doing is investing in a piece of real estate. Unless you plan on living in that same house until the end of time, you will want to consider your return on investment (ROI). When you go to sell this piece of property, your ROI is essentially the money you would gain from the initial cost of the home.
There are several factors that can affect your ROI, the home's location and upgrades being two of the most important. Fortunately for you, Paradise Valley is a desirable place to live, so you might not have to concern yourself with location as much. Upgrades are important when buying a home, because you wouldn't want to move into a space that would immediately need construction, unless you want to just make the home your own.
Your research won't stop there, however. Look through different neighborhoods and compare the costs of various homes for sale in PV. Moving forward in your search, this will give you an indication as to how homes in your area might be priced. If you find your dream home and feel like it is overpriced, you can work with your realtor on making a more suitable offer.
Make a Must-Have List
If you haven't done so already, create a must-have list for your next home. This can range anywhere from a two-door garage to granite countertops, hardwoods throughout and so much more. This is your investment and your home, so you should be picky! Don't be afraid to turn down a property if it is not exactly what you want.
With your must-have list, buying a Paradise Valley home can be made that much easier because it narrows your search. From this pre-vetted selection, you can view only the homes that would meet your dream-house criteria. When you walk inside the doors, you won't be swept away by amenities because you will be expecting them. You can concentrate more on the layout and maintenance of the space.
The layout of a house is of the utmost importance, because unlike wall paint or fixtures, it can't be easily changed. Looking for potential problems with the home is important too, because you would want to have any damage addressed before you move in. Of course, your realtor would be able to handle these arrangements for you, if they have not already been noted.
Hire the Right Paradise Valley Realtor
With your own research and must-have list, you and your Paradise Valley Realtor can work together to find your dream home among the available real estate in Paradise Valley. The right realtor will have your concerns in mind, so that you know you can to trust them in your search. Clear and open communication with them will make for an efficient process as you look at homes for sale.
While apps for your smart devices are great tools to learn about what's out there, it can't compare to the skills and expertise of a real-life realtor. They will provide you with insider information when it comes to new homes on the market. They will also be able to determine whether or not a home is accurately priced.
Additionally, they will help guide you through all the paperwork when it comes time for closing. If you're working within a budget, they can help you negotiate the best deal possible, without having to make sacrifices on your must-have list. Finding and purchasing your dream home in Paradise Valley is made much simpler with the help of a professional realtor.
______________________
Are you looking to find your dream home in the Paradise Valley area? Let Thomas Osterman assist you on your next home buying or selling journey. Reach out via email or call 602-405-4052 today!
Read related articles: