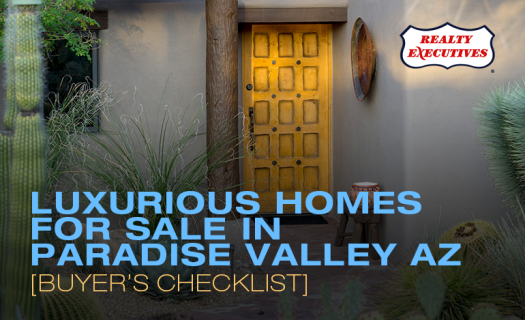 When you're in the market for a new home, there are a lot of factors to consider. In fact, many prospective home buyers construct what is known as a buyer's checklist before they even start shopping. While buyer's checklists are an important tool for any home buyer, they become even more crucial when you're considering purchasing a luxury home. Buying a luxury home is such a large investment, it's important that you get the best features and amenities available, which is where a buyer's checklist really comes in handy. Discover a few items you should be sure to put on your luxury home buying checklist, and find out why you should look for luxurious homes for sale in Paradise Valley AZ.
Pick the Right Location
Any real estate agent will tell you that the most important aspect in purchasing a luxury home is location. When you're investing the kind of money it takes to purchase a luxury home, you want to be sure you're also choosing a great location, which is exactly what you'll get when you choose a luxury home in Paradise Valley. Possibly the premier community in the entire state of Arizona, Paradise Valley offers its residents beautiful homes, unbeatable recreation opportunities and some of the friendliest neighbors one could hope to find. If you're looking for a luxury home, your search should begin and end with luxury Paradise Valley homes.
Pay Attention to the Curb Appeal
First impressions are everything in life, and this philosophy should extend to your luxury home. Before deciding on the right home for you, you should make sure that it has high-level curb appeal, meaning that when you look at your home from the street it should wow you every time. Try and compare the curb appeal of the home your considering to those in the rest of the neighborhood and see how it holds up. If it still impresses after the second or third time that you see it, then it's a home worth considering for purchase.
Choose the Perfect Style of Home for You
More so than possibly any other factor you consider when searching for an upscale home, you need to make sure that whatever home you choose fits your personal style. Are you more attracted to classical design choices, or are you in the market for something interesting and modern? Is floor space important to you, or do you prefer a home to feel cozy? The great thing about luxury homes is that they come in a wide range of styles, which means you'll never have to settle for a house that doesn't fit your specific taste. Before you even begin looking for your luxury home, you should have a few must-have style features in mind to help you narrow your choices.
Make Sure There's Room for Family and Guests
For those in the market to purchase a luxury home, one of the imperatives is to have enough space to host family and friends. After all, what's the point of investing in a luxury home if the people you care the most about can't enjoy it with you? When touring luxury homes for sale, try to imagine hosting parties and family functions in them, paying particular attention to whether there is enough space to host get-togethers comfortably. If not, then you might need to continue your search until you find a home worthy of hosting the next big neighborhood bash.
Does the Home Offer Scenery?
An underrated aspect of finding the perfect luxury home is a matter of scenery. While your new home is sure to be beautiful, you'll also want complimentary surroundings. Fortunately, when you choose a luxury home in Paradise Valley, you'll be getting some of the most beautiful scenery in the entire state of Arizona, with both beautiful desert vistas and majestic mountains.
Cook Up a Storm with a Chef's Kitchen
Almost every home buyer (especially in the luxury market) wants their home to have the best amenities possible, and one of the luxury home amenities you should make sure is on your buyer's checklist is a full chef's kitchen. Whether you want to whip up a world-class meal, or have a kitchen where you can practice your skills and grow as a cook, a chef's kitchen is must-have feature when you're looking for your perfect luxury home.
Relax in a Beautifully Appointed Master Suite
People spend about a third of their life sleeping, and while you might not think this fact has a lot to do with searching for a luxury home in Paradise Valley, it can actually be the deciding factor between a good home and a great home. In your search for a luxury home, you should put a lot of weight on the existence of a master suite. A great master suite will fast become your favorite room in your house, both for getting a great night's sleep and spending some time to yourself.
Take Time for Recreation
If you're looking for a luxury home that's suitable for your family, there is one factor that more important than most: opportunities for recreation. Any luxury home worth considering should possess both a home theater and a game room. On those days when you just don't feel like leaving the house, your family will still be able to have a ton of fun, either by taking in a relaxing movie or planning an exciting family game night.
Look for High-Quality Backyard Amenities
If the luxury home that you're considering has hit every mark on your buyer's checklist, there's still one feature to check for before making your final decision. Every great high-end home should have enticing backyard amenities that you wouldn't be able to find when looking at normal housing options. Although luxury home backyard amenities can vary wildly depending on your taste, some features that you should look for can include glamorous swimming pools, a large patio or deck and unique, beautiful landscaping.
Tour Luxurious Homes for Sale in Paradise Valley AZ
Having a buyer's checklist in hand is one of your most important tools when your looking for luxurious homes for sale in Paradise Valley AZ. However, even with your buyer's checklist, the best way to make sure you get the perfect luxury home for you and your family is to look for a home with the help of a luxury Paradise Valley AZ real estate expert. When you work with a real estate expert, you'll know your getting the right house at the right price, which is what you want out of a luxury home.
____________________________________________
Are you interested in luxury houses for sale in Paradise Valley Arizona? Contact Thomas Osterman, an experienced Paradise Valley Realtor. Speak with Thomas by calling 602-405-4052
Read related articles: