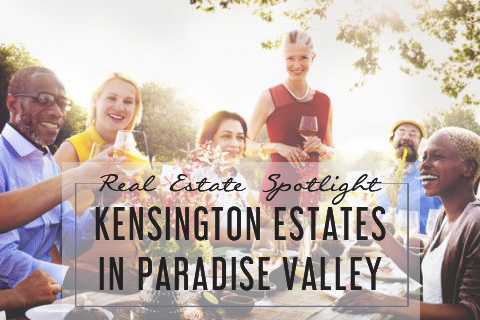 When you are looking for a new home in Paradise Valley, you have more things in mind than just picking the right house. You want to find a neighborhood that is close knit, offering you the opportunity to get to know your neighbors and to build a close-knit community. This is exactly what you will find when you decide to move to Kensington Estates, one of the most exclusive communities in Paradise Valley. Not only will you get access to beautiful home, but you will be living in a community that truly embodies the meaning of the word. Read on to learn about the homes for sale in Kensington Estates and find out how you and your family can move to this neighborhood.
Join an Exclusive Neighborhood
One of the often overlooked aspects when searching for a new home is availability. When a community has limited spots, it means that it is a truly great place to live. With only four open homes in the neighborhood, Kensington Estates is clearly a highly sought after community. This limited availability not only speaks the area's exclusivity, but it also shows that you will need to move fast if you want to be the next member of this popular destination. Acting quick is your best bet if joining the exclusive, tight-knit community of Kensington Estates sounds appealing to you.
Choose a Home That is Off the Beaten Path
Although some homeowners prefer a community that has instant access to major thoroughfares, there is something to be said for a home with a little solitude, which is why many homeowners are starting to look for cul-de-sac homes for sale. Cul-de-sac homes are ideal for a number of reasons, but the number one advantage is shielding you and your family from the bothersome, and sometimes dangerous, traffic that comes with an average neighborhood. Your children can ride their bikes freely and safely thanks to choosing a home located on a cul-de-sac in Kensington Estate—not to mention the potential for some truly excellent cul-de-sac parties.
Develop Close Knit Ties in a Friendly Community
In the modern age, it is not as common to have close relationships with your neighbors. However, being friendly and close with your neighbors used to be the norm, and actually can lead to some serious benefits for everyone in the neighborhood. Probably the biggest benefit of choosing to call Kensington Estates home is how close the community is. Living in a small community in Kensington Estates means having real, lasting relationships with your neighbors, and knowing that there is someone there for you when you need it. If you value a neighborhood where the residents know each other, there's no better choice to live than Kensington Estates.
Come Home to Kensington Estates After Consulting a Realtor
For quite a few reasons, Kensington Estates is the premier neighborhood for those looking for a new home in Paradise Valley. Offering community, privacy and exclusivity, Kensington Estates truly has it all. If you are considering moving to this exciting neighborhood, then you need the help of an expert Kensington Estates Paradise Valley Realtor to help you get access to one of the few homes remaining. Hiring a realtor means avoiding missing out on the available Kensington Estates homes for sale, the best home you will ever have and the best neighborhood you will ever live in.
____________________________________________
Are you interested in houses for sale in Kensington Estates? Contact Thomas Osterman, an experienced Paradise Valley Realtor. Speak with Thomas by calling 602-405-4052 now!
Read related articles: