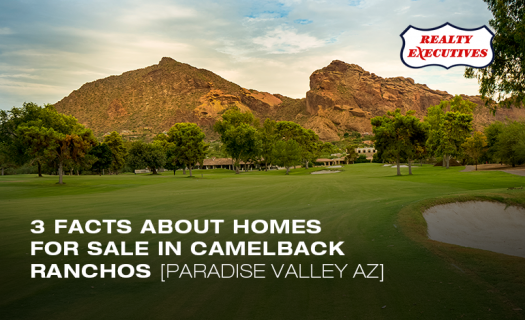 Glancing around Camelback Ranchos, you would be forgiven for thinking you had stepped into another era. The shrub-lined streets and sweeping desert vistas recall a time when a person could feel like a plot of land was truly theirs.
As the cactus wrens call out in the morning and the sun peeks out from the east just over Camelback Mountain, you can get a sense of what being home once felt like back before lights and sprawl made you just another part of the city.
Relive this experience every day by moving into one of the gorgeous luxury homes for sale in Camelback Ranchos. Here are three of the joys you can encounter every time you walk out your front door.
Camelback Mountain is Always in Plain Sight
Most people these days use kitschy highway advertisements when they give directions, like "turn left at the giant cow," but you can simply say, "drive towards that beautiful mountain on the horizon" when you live in Camelback Ranchos. That is because Camelback Mountain is literally within walking distance of every home in the aptly named community. It will become as much a part of your outdoor décor as any potted plant or garden sculpture.
This scenery gives every home in Camelback Ranchos a unique character that cannot be replicated.
Vintage Spanish Mission, Mexican and Navajo-Inspired Home Designs
"They don't make 'em like they used to," is on oft-uttered phrase these days, especially when people talk about many of the homes built now. What they have in modern material technology, they lack in character.
Camelback Ranchos' real estate for sale in Paradise Valley doles out this character in spades, with plenty to go around. Most homes were built at different times and with completely different ideas of architecture. Some adopt the classic Spanish Mission architecture with clay roof tiles and square windows, while others take the concept of a Navajo hogan and turn it into a magnificent statement.
All homes are spacious, luxurious and renovated to keep up with the latest building codes and standards. You can therefore live in the best of both worlds: an old home rich with style and history mixed with modern sensibilities, connectivity and efficiency.
Perfect Spot for Nature Lovers
Echo Canyon is one of the most popular nature hikes in all of the Phoenix-Scottsdale area and at Camelback Ranchos, it is practically in your backyard.
If you are not a fan of that particular trail, you have dozens of other trails you can choose from just a short walk or bike ride away. Getting to the trailhead can be accomplished in a few minutes, allowing Camelback Ranchos residents to go on impromptu hikes any time they feel like it.
After all, nothing relieves stress and helps us reconnect to what matters most like being immersed in nature for a few hours.
If all of these qualities sound desirable to you, then enlist the help of a Camelback Ranchos Paradise Valley AZ Realtor to help you find the perfect home for you.
_________________________________
Are you interested in houses for sale in Camelback Ranchos in Paradise Valley? Contact Thomas Osterman, an experienced PV real estate agent. Call 602-405-4052 to speak with Thomas now!
Read related articles: