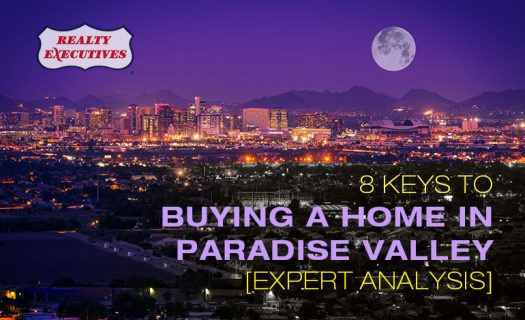 Buying a home in Paradise Valley does not have to be a Herculean feat. As long as you brush up on some critical home buying pointers, you can find the home you've been dreaming about at the price you're looking for.
So make sure to use the following strategies when buying a home in Paradise Valley to ensure you will be grinning from ear to ear over the outcome:
Determine the Criteria for a Home That's Perfectly "You"
Home buying in Paradise Valley, Arizona, can quickly overwhelm you with the number of gorgeous properties. Many homes are so stunningly realized and expertly executed that they leave an impression on you for days.
But that does not make a home perfect — at least not for you. Giving off a striking first impression can be one of dozens of criteria for your new home, and unless you plan on regularly entertaining business colleagues or filming flashy music videos, looks might not be the most important of those criteria.
First and foremost, consider your space needs in terms of bedroom size, kitchen size, storage, and overall room count. Also, consider the layout of the home and how it might benefit you today and in years to come. Are you planning on having more children? Are your children about to move out? Do you have an aging set of in-laws that may need their own wing? Will you still use your pool in five years? Think about how your needs will change dynamically over time.
Then think about essential criteria like location, which includes your neighborhood, access to amenities, views, proximity to good schools, local bylaws and more. Even when weighing the aesthetic beauty of a home, you should have a certain set of architectural styles or features in mind, such as a breakfast bar in the kitchen or original hardwood floors.
Rank and categorize all of your criteria before you start falling in love with a home. Sometimes this list is the only thing that can keep your head and your heart in sync.
Know Where to Look
For privacy reasons, many luxury properties are not listed in traditional online real estate listing websites. These "pocket listings" can be found by partnering with an experienced luxury buyer's agent.
A well-established Paradise Valley realtor will be able to use his or her industry connections, relationships with luxury home sellers, and resources not available to the general public to show you luxury properties for sale that you wouldn't have known existed!
Keep an Open Mind When Viewing Properties Online
A good realtor will take professional photos of a luxury home when listing it online, but sometimes the photos (especially the front elevation shots) don't do the home justice. Consider at least doing a drive-by before dismissing a potential home, especially if it has many of the features you are looking for. You may find that it is much more appealing in person. If a drive-by isn't feasible, a Google Earth search can give you a better idea of what the property looks like.
On the flip side, never buy a home sight-unseen because it looks great online. You could be setting yourself up for some unpleasant surprises. It's always good to visit the property in person at least once to get the full picture.
If for some reason you're not able to view the property right away, possibly because you're out of town for work, you may be able to do a facetime or video chat walk through with your real estate agent to gain a better view of the property than what's available through pictures or an online virtual tour until you're able to do an in-person walkthrough, thanks to the high tech world we are now a part of.
Take Your Time When Shopping for Your Paradise Valley Luxury Home
Home shopping can be exhilarating in the beginning, but it is easy to grow weary of the process over time. This may cause you to settle on something you are less than thrilled with, leading to buyer's remorse shortly after the purchase.
Resist the urge! As one of your largest investments, it is worth waiting until you find exactly what you want based on the criteria you've listed out. In general, there is much less competition when it comes to luxury homes, so prepare yourself mentally ahead of time to be patient and wait for that perfect fit. It will come along.
If you've hired a good buyer's agent, he or she will stay on top of new listings so you can view them as soon as they come on the market.
Visit the Home Multiple Times to Make Sure It's a Fit
Some homes are easy to fall in love with at first glance, but remember that they can be like high school sweethearts — fun to date, but not smart to marry. Similarly, a home that gets you excited may not be as exciting upon a repeat visit, especially if you have seen a home recently that could be a better fit.
Our brains are fickle. Lighting conditions, our current mood, and past experience can all alter our first impression as our thought process matures. Give yourself time and let the property marinate in your mind so you can be sure your final decision carefully weighs all factors, ensuring that you will love your home long-term, not just for the first few weeks.
Always Get a Home Inspection
Yes, many luxury homes look pristine, but costly issues can be lurking in the shadows. Once you have chosen a home you are interested in purchasing, hire a home inspector familiar with luxury properties to inspect high-end home features, appliances, and the home's structural integrity so you don't run into any large, unwanted expenses after your purchase.
A thorough inspection can not only uncover problems that need to be addressed immediately (e.g. mold, broken ventilation system, etc.), but it can also give you a heads-up on repairs, maintenance, or upgrades that will need to be done in the future.
If Not Paying Cash, Come into a Sale Qualified for a Loan
Cash is king, but most of us do not have the liquidity for an all-cash Paradise Valley home purchase.
If this is the case with you, make sure to take the extra step of getting a mortgage qualification before you start making offers on a home. You may even want to get pre-qualified before you start shopping.
Why? Because you will get these benefits:
Accelerate the process of making an offer and closing on a home
Put all your paperwork together to make it easier to complete your actual mortgage application
Get a complete view of your finances from a 10,000 foot perspective
Get a neutral, outside opinion of your credit health and your possible home-buying budget
Come to home sellers with a qualification in hand, letting them know that you are ready to buy and are making only serious offers
Compete with buyers who do not have ready proof of purchasing power
Hire a Local Paradise Valley Realtor That's an Expert Negotiator
Tactics and negotiation strategy factor into every step of the home buying process. The seller's asking price might just be an opening strategy, for instance, and not something they actually expect to get given their property and the current market.
An experienced Paradise Valley real estate agent can recognize these tactics immediately. He or she can also crunch the numbers for you to let you know what a home might actually be worth given market conditions and nearby comparable properties. This information gives you critical insight when making an offer or counter-offer on a home, helping you avoid missteps while getting the best price possible.
You can make sure that your relationship with your new home will be a long, happy one by looking to a local PV Arizona Realtor for guidance and expertise.
———————————————————————–
Are you interested in homes for sale in Paradise Valley? Contact Thomas Osterman, an experienced PV real estate agent. Call (602) 405-4052 to speak with Thomas now!
Read related articles: