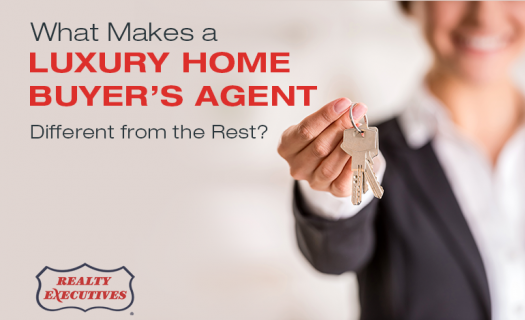 Are you considering buying a luxury home? If so, you'll likely be looking for a real estate agent that can help you find exactly what you're looking for at the best possible price. But if you want the process to go smoothly, not just any real estate agent will do. You'll need a luxury home buyer's agent with an in-depth understanding of the luxury real estate market.
Luxury real estate requires a buyer's agent that has the skills and experience to represent buyers in the top-tier real estate market. Read on to learn what criteria to look for when choosing the best luxury buyer's agent for your next home purchase.
How to Select the Best Luxury Buyer's Agent to Represent You
There is no shortage of buyers' agents to choose from when it's time to start looking for your high-end real estate. Here are some tips for finding the one luxury agent that stands out from the rest:
Experience in the Luxury Real Estate Market: When you are on the hunt for your next home, look for an experienced buyer's agent with a proven track record of successfully helping buyers purchase luxury real estate. Don't be afraid to request (and contact) references from any agents you are considering working with. Former clients will be able to speak to how proficient the agent was throughout the process. Secondly, you can check online reviews to get an idea of experiences others have had with an agent.
Hyperlocal Focus: Look for a realtor that has vast experience helping clients buy and sell homes in the specific area where you want to live. He or she will be able to help find homes that meet your specifications better than anyone else since they know the area down to the smallest neighborhoods. Want to know where the best and worst areas are? Need to be close to the best schools? Looking to live on a street with low traffic? Want to limit your commute? Your local agent will be able to direct you to the best spots.
Strong Industry Knowledge: There are many great real estate agents out there, but selling a typical home vs. selling a high-end home are two very different things. Not everyone is up for the task. This market segment demands special competencies to ensure you find exactly what you want without overpaying. Luxury buyer's agents will have an intimate knowledge of available inventory, average days on market, recent sales, and the list-to-sales price ratio for your specific price range. When you are interviewing buyer's agents, request an overview of current market conditions when you first meet them. This is a quick way to weed out flashy luxury real estate agents and recognize knowledgeable ones.
A Strong Work Ethic: Helping people find a luxury home based on their unique preferences is hard work and should be a full-time job for the agent you choose. Your agent should be completely committed to helping you select your future home. He or she should thoroughly review all available homes on the market and schedule times for you to view all the properties that fit your criteria so you can find the perfect home.
A Proficient Communicator: You are likely busy with work, family, or other things. That said, you shouldn't have to check in with your agent to find out what's going on. Your agent should communicate with you regularly with any potential home listings, any changes in current market conditions, and updates in regard to the buying process as they are available. If you are calling or emailing your agent and not hearing back promptly, it's time for a new one.
A Master Negotiator: As your advocate, your agent should negotiate on your behalf to make sure your goals are met and to ensure that you get the best price possible on the purchase of your new home. A poor or inexperienced agent can cost you big bucks, or even cause you to lose the home to another buyer, so vet your agent thoroughly.
High Ethical and Moral Standards: The agent you choose should have a reputation for maintaining the highest ethical and moral standards throughout the luxury real estate transaction and beyond. You can get a good sense of this by reading reviews and talking to references provided by the agent during the hiring process.
Understanding of Luxury Home Etiquette: In this niche market, sales don't always operate by the same rules as your typical home transaction. These agents need to use discretion, be flexible, and be readily available throughout the process. With many high-value real estate transactions taking place off-market, the agent has to be able to handle private and public transactions. He or she may even need to attend twilight tour (evening invite-only) events to preview homes on your behalf. If a buyer's agent isn't willing to do this, it's time to look elsewhere.
Having the right representation during your home buying process is critical. If you are looking for a luxury home in the greater Phoenix area, get in touch with veteran luxury real estate agent Thomas Osterman. He has almost two decades experience helping affluent home buyers successfully navigate through the luxury homebuying process. Let him help you, too!
_______________________________________________
Looking at luxury real estate in Paradise Valley, Scottsdale, Biltmore or other nearby luxury AZ neighborhoods? Contact top luxury real estate agent Thomas Osterman, who has decades of experience buying and selling high-end properties across the Valley. Call (602) 405-4052 today or click here!
Read Related Articles: