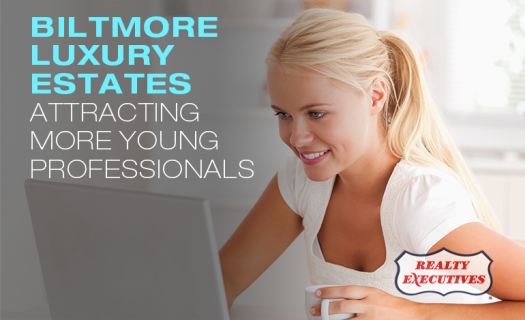 Today's young professionals want it all, and why not? We live in a society where you can have a short commute to work and be close to a hopping nightlife, the best dining and shopping, and outdoor recreation where you can live the healthiest lifestyle. With more and more companies understanding this, it's easy to see the attraction of a luxury home in an area like Biltmore. Discover why so many young professionals are attracted to Biltmore luxury estates and what they have to offer in terms of proximity and amenities.
Access to the Best Amenities
Today's luxury estates offer access to the very best amenities. This is a major attractor for young professionals. They want to be close to downtown and a hopping nightlife. They want golf courses, tennis courses, swimming pools and fitness facilities all in a well-maintained community. Luxury estates in Biltmore have all of these and more. For the professional just starting out, these communities have everything you could want.
A Short Commute
Of course, a short commute and close access to town are always attractive, no matter what age you are. Nobody wants to spend two hours every day fighting traffic and bad drivers, only to get stressed out and start your day poorly, or continue the stress of a bad day. A close commute is something that's a draw to just about anyone, and Biltmore Estates are very close to a number of businesses, with more moving here every day to take advantage of the outstanding hiring pool here.
Outstanding Dining and Shopping
Living in a luxury estate means fine living, and residents of luxury Biltmore Estates have access to some of the very best shopping and dining opportunities in the area. From upscale boutique shopping to four-star restaurants, it's all here just waiting to be enjoyed. From gourmet pizza at the Parlor to casual but high-class bar fare at The Tavern, to fine French cuisine at Christopher's Restaurant & Crush Lounge, the best in dining is just around the corner.
If it's shopping you want, you can't beat this area, either. There's Biltmore Fashion Park, Saks Fifth Avenue, men's clothing at The Clotherie, boutique beauty supplies at the Citrine Natural Beauty Bar, and the Secret Village specialty shops, just to name a few.
Living Active and Healthy
Young people these days want nothing more than to be able to live an active, healthy lifestyle. Biking, hiking, jogging and other outdoor activities are en vogue right now, which bodes well for our future! At Biltmore, you've got a perfect location for hiking, biking and all the outdoor healthy recreational activities you could possibly want.
If the best in luxury living in the Phoenix region appeals to you, you couldn't do better than this area. When you're ready to start your search, you need help from the best Biltmore real estate agent, which is why you should work with Thomas Osterman. I know the area and can help you get set up with the new Biltmore luxury estates of your dreams. Give me a call to get started today!
_________________________________
Are you interested in buying or selling a home in the Biltmore area of Phoenix, AZ? Contact Thomas Osterman, your luxury Biltmore real estate agent. Call 602-405-4052 to speak with Thomas now!
Read related articles: