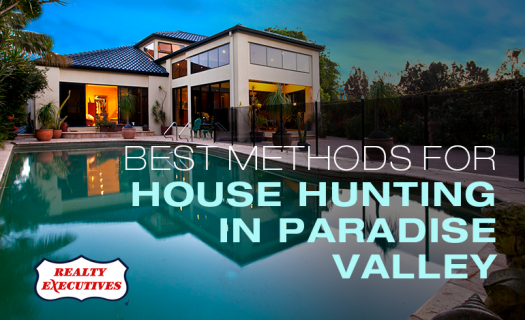 As one of the wealthiest, most exclusive communities in the U.S., Paradise Valley is a top choice for celebrities, athletes, executives, and affluent buyers looking for a private retreat. If you are considering purchasing a home in this community, there are some steps you can take to help the process go as smoothly as possible. Read on to discover four of the best methods for house hunting in Paradise Valley.
1. Hire an Experienced Paradise Valley Realtor
Your first step in house hunting is to work with a knowledgeable local realtor. Using a real estate agent can not only give you access to resources you may not find on your own, but also help you avoid critical mistakes that are stunningly common.
He or she can provide you with information about the area where you'll be moving and can point you in the right direction as well as guiding you through the entire purchasing process. Home buying can be a confusing and complex process, and the right realtor can be your guide from start to finish.
2. Know What You Want
As one of Arizona's premier communities, Paradise Valley offers a variety of housing options to suit the needs of even the most discriminating buyer. The key is to know exactly what you are looking for from the get-go. Here are some things to consider before you begin house hunting to help you narrow down your search more quickly:
Location: There are several options when it comes to finding your ideal location in Paradise Valley. Are you looking for sprawling, idyllic desert views? Would you like to be nestled near picturesque Camelback Mountain? Would you prefer to be in a lush, green, manicured golf community or a larger lot in a family-centric neighborhood? Do you need easy access to major highways?
Lifestyle: Your lifestyle will also be a major factor in the home you choose. Would you like to be closer to the action in downtown Phoenix or Old Town Scottsdale, or are you more focused on privacy and lot size? Do you want to be near outdoor recreational opportunities or high-end shopping and dining? Are you looking for a 'lock and leave' option (perfect for those second home buyers or those frequently out of town)? It's important to nail down these preferences before you begin your search.
Personal Must-Haves: List out those things that you can't live without. Whether it is a certain style or layout of home, number of bedrooms/bathrooms, a specific view you are looking for, proximity to certain facilities, or amenities like that luxury kitchen, casita, or smart home technology, get it down on paper and share it with your realtor.
3. Review Online Sites
Statistics show that the vast majority of all house hunting includes online search. Thanks to a number of real estate websites and apps, you can tap into some amazing online resources to hunt for that perfect home. A good starting point would be your real estate agent's website. Other popular sites are Zillow, Redfin, Realtor.com, Trulia, and others.
By pinpointing some properties you would like to check out, you'll be engaging in a valuable conversation that will continue to refine your home search with your Paradise Valley Real Estate Agent .
4. Understand Your Financing Options
Having an understanding of the median sales price in Paradise Valley is a great place to start. You can then start down the path of determining an ideal budget for the property. If you don't plan on paying cash for your home purchase, be sure to get pre-approved by a lender prior to beginning your home search. Pre-approval will help you understand more clearly what kind of price range you can look in, and what homes to are able to make an offer on, and it makes negotiations with the seller easier. Some listing agents for luxury Paradise Valley homes will require an approval letter or proof of funds prior to allowing a showing of the property.
Concluding Thoughts
In the end, when it comes to the best practices for finding a home in Paradise Valley, working with the right PV Realtor in Arizona should be at the top of your list. If you're looking to jumpstart the process of hunting for your next home, Thomas Osterman is ready to help. Thomas is a Paradise Valley real estate veteran that knows the area and the market like few others. Give him a call today to talk about taking the right steps towards finding the new home of your dreams.
_________________________________
Are you interested in homes for sale in Paradise Valley AZ? Contact Thomas Osterman, your luxury Paradise Valley real estate agent. Call 602-405-4052 to speak with Thomas now!
Read related articles: