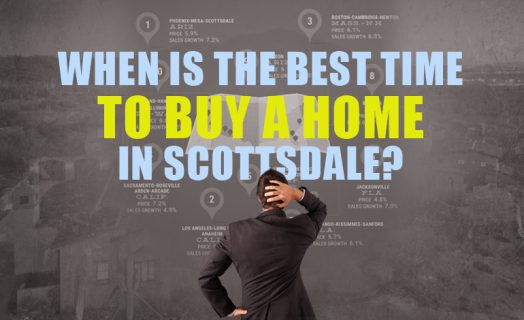 In Arizona, temperatures are (finally!) dropping. That's right: it's finally cool enough to host that backyard cookout or go hiking with friends.
It's also a great time to look at real estate! As temps drop, Phoenix and Scottsdale listings increase. And with a variety of outdoor attractions like golf courses and natural formations, as well as sports events, plenty of people will be making their way into town – some of whom are looking to move to the area.
Read on to learn why now is the best time of year to buy or sell a home in Arizona.
Cooler Weather Means More Buyers & Sellers
Did you know that more than a quarter million residents ditch town during the summer months? It's just too hot! With a decline in population, it's not the best time to buy or sell a home: lower demand means lower prices (bad for sellers) and lower inventory (bad for buyers.)
But now that temps are dropping, people are coming back to town. Tourism (non-resident) also increases during the cooler months and, let's face it, some of these folks are considering moving to the area.
For a seller, this means it's a great time to get your house listed online with other Phoenix and Scottsdale listings. And for a buyer, this means now is a better time than ever to start your search – because you're not the only one looking!
Load a Moving Truck In 100+ Degree Temps?! Um, No.
It's doesn't matter which side of the fence you're on: whether you're buying or selling, moving means hot and heavy work. No one wants to pack boxes and load trucks when temps are well over 100 degrees. It's not safe or fun. For this reason, many in Arizona wait for the summer months to end before even considering a move.
Holidays Are Approaching!
Once summer has ended, Phoenix and Scottsdale listings increase – but as we get closer to holidays, things slow somewhat. Let's face it, no one wants to be uprooted during Thanksgiving or Christmas. Keep this in mind as you plan to sell your home or start your search.
Also, unless you're a cash buyer, it takes about 6-8 weeks to close. If you sign a contract in mid-November, this means you'll be closing around Christmas.
We'll see a spike after the holidays, too: since temperatures will be comfortable through late Spring, this means the housing market will be hot for a while. So if you don't find your dream home before Christmas, don't fret: there's still plenty of time.
Don't Delay: Check Out Phoenix & Scottsdale Listings Today
With the heat behind us, there's no better time to buy or sell a house in the Phoenix area. Inventory is good, prices are strong, and plenty of people are looking for their next dream home in our beautiful community.
We understand the importance of this decision, and we have your best interests at heart. If you're searching for the next move, contact us today. We have a strong record of successful home sales – are you next?
_________________________________
There's only one top North Scottsdale realtor, and that is Thomas Osterman.
Call Thomas at (602) 405-4052 and enjoy a more personalized real estate experience.
Read Related Articles: