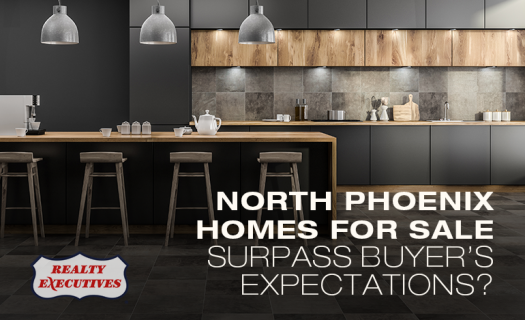 North Phoenix has been growing by leaps and bounds in the past few decades. An ongoing spurt of new development has no doubt contributed to the city's status as one of the fastest growing metro areas in America. But how do these homes stack up against the more modestly paced development from the '80s and '90s, or the quality set forth by the astounding historic homes in Phoenix from the turn of the last century?
Surprisingly well, actually! North Phoenix homes for sale generally exceed what the typical buyer expects when it comes to a modern home. Everything from smart interior layouts to green, energy efficient engineering to an abundance of amenities ensures that these homes can not only meet the needs of the buyers but truly impress in every way.
You can learn more about why you should look to the northern side of town when purchasing a home in Phoenix by reading on.
Beautiful Architecture
Homes for sale in North Phoenix encompass both contemporary and historic architectural styles, but they are consistently beautiful no matter which school of design they originate from.
There are plenty of historic homes in Arcadia that would make you do a double-take as you ride past. With sprawling ranch house layouts and vintage architectural touches like heart oak window frames, these historic homes are well worth a closer look if you want gorgeous, memorable architecture for your home.
Larger Home Lots
Compared to central Phoenix, North Phoenix has plenty of space to spread out. This space enables homes to have larger lots, giving you plenty of lawn space for a striking curb presence. Your children can enjoy playing under the shade of mature citrus and palm trees, and everyone can appreciate the privacy of having neighbors and the road at a distance.
Historic Homes With Modern Standards, Amenities
Don't let the historic facades of North Phoenix homes full you into thinking they are dated on the inside! Phoenix contractors take into account everything from connected home systems to green building practices to give you a thoroughly modern home ownership experience with layers of historic charm added on top.
Great Communities and Friendly Neighbors
Unlike in many other cities, Phoenix residents make a hard effort to meet their new neighbors and make friends. You can take comfort in the fact that someone will keep an eye out for your home if you go out of town or that they will come check on you if they hear you have been seriously ill lately.
Your kids can also look forward to making plenty of new friends and going on adventures riding bikes or visiting any of the numerous local parks. Everyone can relax more in an atmosphere that recognizes how it takes a village to not just raise children but to have a satisfied life by any measure.
Find Gorgeous New or Historic North Phoenix Homes for Sale With an Experienced Phoenix Realtor
You can take a look at the many enticing properties available in the area when you enlist the help of North Phoenix Realtor services from an experienced local real estate agent.
_________________________________
Are you interested in homes for sale in North Pheonix? Contact Thomas Osterman, an experienced Pheonix real estate agent. Call 602-405-4052 to speak with Thomas now!
Read related articles: