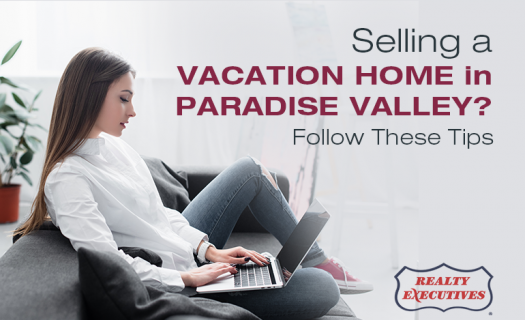 Paradise Valley is a highly sought-after area for actors, athletes, executives, and affluent individuals looking for a serene, private retreat in an idyllic desert setting. In fact, it is one of only a handful of America's wealthiest communities not located on the California or Northeast coasts. If you are thinking of selling a vacation home in Paradise Valley, you'll want to do everything possible to make sure your home stands out to potential buyers. Read on for tips on selling your vacation home as quickly as possible for the best possible price.
3 Tips to Sell Your Paradise Valley Vacation Home Quickly and for the Most Money
Tip 1

: Choose a Local Luxury Real Estate Agent with a Superior Knowledge of the Paradise Valley Housing Market.

If you want to get the most from your vacation home in the least amount of time, having a top Paradise Valley real estate agent is a must. Some people assume that for sale by owner will be less expensive, but studies show that using an agent typically leads to more profit in the end. Not to mention the headaches and hassle you will avoid when you let a pro navigate the selling process for you.

Here are some reasons why having a realtor is so important:
Local real estate agents have an intimate knowledge of the Paradise Valley real estate market, so they can accurately price your home based on a variety of factors.
Realtors know what types of online and offline marketing techniques work best to reach luxury buyers. Listing on Zillow and other related sites is not going to get you in front of the audience you are seeking.
Experienced Paradise Valley real estate professionals are well connected and can promote your home to other realtors whose clients may be searching for a vacation home like yours.
A good realtor will be able to expertly negotiate on your behalf. Having a strong advocate like this in your corner will help ensure that you get the best possible price for your home and that the process goes smoothly.
Tip 2

: Stage Your Vacation Home in the Best Possible Light.

Buyers may envision your home as their primary residence or their next vacation home. In either case, make it easy for them to picture themselves living there with the following staging tips:

Remember that less is more. If you've ever walked through a model home, you've probably noticed that there are few items and the décor is fairly neutral. This is done so potential buyers can picture themselves (and their things) in the home. If you can, consider stashing unneeded items in a storage unit or, at the very least, in the garage or other out-of-the-way area prior to listing your home.

Make sure your interior is clean, functional, and guest-ready. Aside from stashing away the extra clutter, take extra care to keep floors, windows, bathrooms, and the kitchen clean. Make sure that all lights, plumbing fixtures, doorknobs, and window treatments are in good working order. Replace any cracked tiles or windows, touch up paint as needed, and remove stains from porcelain bath areas. Of course, your heater, air conditioner, and water heater should be functioning properly.

On the exterior, fix any fencing, cracked windows, outdoor lights, or other items in disrepair. Freshen up your landscaping. We also recommend that you put a fresh coat of paint on the front door along with a wreath and a new mat. If you have a pool or spa, make sure they are clean and inviting. Tackle any clutter around your house.

If you have pets, make sure yard waste is taken care of and litter boxes are clean and out of sight. Consider taking your furry friend with you while potential buyers are viewing your home.

Your Paradise Valley realtor will be able to look at your property with fresh eyes and recommend staging tips that will present your vacation property in the best possible light.
Tip 3

: Play up Your Home's Best Features

You purchased your vacation home for a reason, and chances are it will also be appealing to prospective home buyers. Maybe it has amazing, unobstructed desert views with Camelback Mountain rising up behind them. Perhaps it has magazine-worthy outdoor living spaces so you can enjoy the exceptional winter weather in style. Maybe the expansive lot and landscaping offer an unbeatable private oasis. Do you live in a guard-gated community with resort-style amenities? Use those unique features as selling points for potential buyers wanting to enjoy the best Paradise Valley has to offer.

There you have it—three important tips to sell your luxury home. This is just the tip of the iceberg (something you will never encounter in Paradise Valley). If you want to learn more about successfully listing your Paradise Valley home, get in touch with Thomas Osterman today. He's been helping clients successfully buy and sell homes in the town of Paradise Valley for nearly twenty years and is ready to help you sell your vacation home.

_______________________________________________

Are you looking to sell a Paradise Valley property? Contact Thomas Osterman to work with a veteran Paradise Valley real estate agent with a proven track record of success. Call 602-405-4052 today!

Read Related Articles: