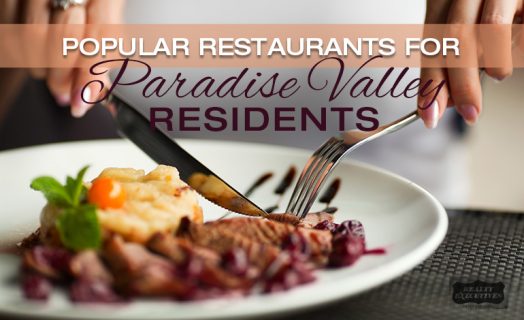 Paradise Valley has been an exclusive vacation destination for decades due to its stunning views, close proximity to Scottsdale and Phoenix, fantastic year-round weather, and posh resorts. Residents love the retreat-like seclusion of the area, which is in close proximity to high-end shopping, entertainment, and more. It's no wonder that Paradise Valley offers some of the best fine dining in the greater Phoenix area. Read on to learn about the top restaurants for Paradise Valley Residents.
Top Ten Paradise Valley, AZ, Restaurants
Whether you live here, are visiting, or are looking to buy a home in the Paradise Valley area, we encourage you to check out these award-winning restaurants.
Buck & Rider
This seafood and steak eatery offers a first-class dining experience with amazing views of Camelback Mountain from its impeccably-landscaped patio, complete with stone fireplace. Swanky beach-themed indoor seating is also available. The chefs partner with farmers and fishermen from the Northeast, West Coast, and Gulf Coast to bring in fresh meats and seafood daily. Diners love the hand-rolled sushi, amazing oyster selection, expertly-crafted cocktails, fresh vegetables, and LGO reserve beef. Learn more about Buck & Rider by visiting their website.
Cafe Monarch
Voted as one of the top twenty-five best fine dining restaurants in the country for 2018 by Tripadvisor, Café Monarch offers an elegant indoor dining area and a private European-themed patio dining atmosphere, which is perfect for a romantic dinner or other special occasion. The ever-evolving menu includes four courses and features sustainable, organic, local ingredients. Guests love the pork belly salad, Maine lobster ravioli, and chocolate flourless cake. See the full menu here.
Chelsea's Kitchen
If you like American southwest cuisine, you will love Chelsea's! When entering the restaurant, you are greeted by the mouth-watering aroma of the smoke yard and the wood-burning grill and rotisserie. There is Roadhouse-style indoor seating, or you can dine on their beautiful outdoor patio with fireplace, which is especially stunning when the sun goes down. This restaurant boasts regional foods and an extensive wine and craft beer selection. Customers rave about the excellent service and stand-out dishes like the smoked prime brisket, grilled swordfish tacos, and flavorful salads. You can learn more about Chelsea's Kitchen here.
Elements at the Sanctuary
This restaurant, located in the Sanctuary Resort, receives rave reviews from visitors for its food, ambiance, and service. Chef Beau MacMillan (former Food Network star) has developed a menu featuring fresh, local American Cuisine with Asian notes. Diners especially love the sophisticated appetizers like the Elemental Seafood Tower or Island Creek Oysters, the extensive wine list, and the excellent presentation and quality of desserts. This restaurant offers beautiful views overlooking Paradise Valley. Get more information about Elements here.
El Chorro Lodge
As the oldest continuously operating restaurant in Paradise Valley (established in 1937), El Chorro boasts a historic fine dining experience with stunning desert views. Guests love the exquisite local Arizona flavors found in dishes such as the Schreiner's Sausage Trio (using local sausage), the refreshing Tangerine Freeze, or the famed El Chorro Sticky Buns. Renowned Executive Chef Christophe Mihy has designed an amazing menu with a focus on locally sourced, fresh ingredients. See the full menu here.
Lon's at the Hermosa Inn
Rated as one of the best restaurants in Paradise Valley, Lon's uses fresh, regional ingredients coupled with wood-grilled, roasting, and smoking cooking techniques to create globally inspired Arizona dishes. Renowned chef Jeremy Pacheco incorporates his culinary skill with his farm-to-table philosophy for fresh, flavorful contemporary dishes that delight diners. Wine aficionados will love the award-winning wine selection, including almost 700 wines from around the world. Guests can enjoy an intimate dining experience in the rustic Wine Cellar featuring 1890's Chicago brick, trusses, and reclaimed wood. Or, for a romantic outdoor experience, enjoy your meal on the patio next to one of the lounge fireplaces. Learn more about Lon's here.
Rusconi's American Kitchen
As the name implies, Rusconi's features an extensive menu of delicious, creative regional American dishes at affordable prices. With sustainability as a priority, Chef Rusconi's food philosophy includes buying the best possible ingredients, treating them with the love and respect they deserve, and using the right cooking technique for the best quality dishes. And guests agree. Many rave about the signature dishes cooked over the wood-burning grill and the comfortable atmosphere. The menu changes seasonally, so it's a good idea to check out the website to see current offerings if you are looking for something specific.
Roaring Fork
The Roaring Fork offers contemporary Southwestern American cuisine in with a variety of dining experiences. Relax in a warm, intimate indoor atmosphere or covered/uncovered outdoor patios with misters, fans, and fireplaces for a comfortable, quiet dining experience year-round. Open for dinner and happy hour, wood oven roasting, open flame grills, and a wood fire rotisserie are used to create bold American cuisine with southwest flavors. Guests love the green chili pork appetizer, pork carnitas, "Big Ass" burger, and amazing cocktails like the huckleberry frozen margarita. Learn more about the Roaring Fork here.
Steak 44
If you are looking for an upscale steakhouse with exceptional service, this is the restaurant for you. Steak 44 was voted "Best Steakhouse in the Valley" last year by Phoenix Magazine and boasts an incredible fine dining experience, featuring USDA Prime Grade Beef, fresh seafood, the best quality Domestic Wagyu, unique apps and side dishes, and a jaw-dropping 3,000 bottle wine list. You can enjoy the outdoor patio and fireplace or eat inside where you can choose from the dining bar overlooking the restaurant or a table with a view of the chefs in action in the glass-enclosed exhibition kitchen. In addition to the steaks, diners enjoy the rock shrimp mac and cheese and Alaskan king crab. Find out more about Steak 44 by visiting their website.
The Henry
Billed as the "greatest neighborhood restaurant," The Henry features delicious American cuisine for breakfast, lunch, and dinner. In addition to the full-service restaurant and bar, they also have a coffee shop. They even have a kids menu, which is great for families who want to enjoy a terrific meal. The open, industrial dining atmosphere is classic and inviting, and they also have charming outdoor patio dining. Patrons offer glowing reviews of the wonderful appetizers, polenta, ribs, weekend brunch, and level of service. See all of their menus here.
Fine dining is just one of the many reasons residents and vacationers love Paradise Valley. If you are interested in purchasing a house in the area, a top Paradise Valley realtor like Thomas Osterman can help you find the perfect luxury home to fit your needs. He can also point you to the best shopping, entertainment, and dining that the Valley has to offer.
_________________________________
Interested in purchasing a luxury home in Paradise Valley? Great choice! Contact Thomas Osterman for a personalized buying experience. As a top Arizona luxury real estate agent, he can help you negotiate the best purchase price on the luxury home of your dreams.
Read Related Articles: