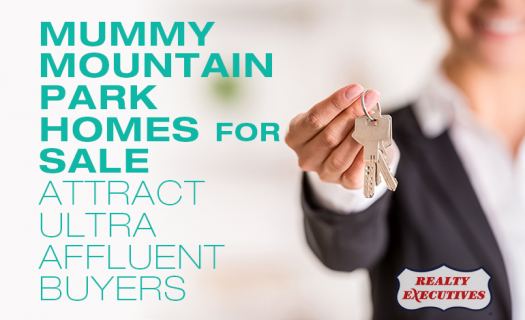 Situated close to both downtown Phoenix and Scottsdale, Paradise Valley is an exclusive community whose residents and visitors enjoy all the benefits of urban life while living in a quiet, peaceful retreat that seems worlds away from the hustle and bustle. This exclusive area boasts large lots, luxury estates, and all the finest amenities, including world-class dining, shopping, golfing, resorts, and more within minutes. Among the most affluent and opulent neighborhoods in Paradise Valley, few are more exclusive than Mummy Mountain Park Homes. Read on to learn more about Mummy Mountain and what you can expect when living in the Mummy Mountain Park neighborhood.
About Mummy Mountain
Standing majestically at an elevation of 2,260 feet at its highest point, Mummy Mountain is a beloved landmark of Paradise Valley. Mummy Mountain was named by Charles Mieg, a businessman and miner, who compared the mountain's shape to an Egyptian Mummy lying down. In the 1940s he purchased one square-mile of land on the mountain's north side for only $12,000 and began selling parcels for development—marketing them as Mummy Mountain properties. Today, residential development continues on the slopes of the mountain, but the upper areas are protected as conservation sites by the town of Paradise Valley and the Mummy Mountain Trust Preserve.
Large, Scenic Lots Offer Endless Possibilities
Homeowners in Mummy Mountain Park enjoy spacious lots (over one acre) which provide optimal privacy, tranquility, and exceptional scenic views of the desert landscape and views of Mummy Mountain. Some homes even boast mountain views from every window! Enjoy entertaining, swimming, letting the kids play, or just relaxing and taking in nature in your private oasis—free from the prying eyes of close neighbors or passersby. With all of that space, you are free to add a saltwater pool and spa, casita, luxurious outdoor living space, or anything else your heart desires! To find exactly what you are looking for, we recommend contacting an experienced Paradise Valley Realtor to help you discover the perfect spot based on your preferences.
Take Advantage of Top-Notch Schools
If you have school-aged children, you will be pleased to know that they will be educated in some of Arizona's best schools. Public schools vary by location and include either Cherokee Elementary School, Cocopah Middle School, and Chaparral High School (Paradise Valley Unified District), or Kiva Elementary School, Mohave Middle School, and Saguaro High School (Scottsdale Unified District). If you are looking for other options, there are several highly rated private schools in the Phoenix area to consider.
Enjoy Beautiful Desert Views
It is no secret that the Arizona desert landscape offers amazing views. Begin and end your day on a high note with stunning, unobstructed sunrises and sunsets with a broad array of colors that fill the clear skies. Take in the majestic views of the Precambrian granite, quartz, and schorl mountain formation rising in the distance. Enjoy the palm trees, saguaro, and other exotic plants that pop against the desert backdrop. Add your own landscaping to create a view that is uniquely yours. With an average of 294 days of sunshine a year, you have ample opportunity to enjoy the outdoors!
Small Town Community Feel with Big City Amenities
While the homes in Mummy Mountain Park offer the ultimate in luxurious living, the spacious lots, proximity to neighbors, and limited development give it a rural feel. Since its inception, Paradise Valley's leadership has worked hard to keep it that way with strict development guidelines to preserve the open space, quiet atmosphere, and privacy that residents cherish.
Find Your Dream Home in the Mummy Mountain Park Neighborhood
The Mummy Mountain Park neighborhood in Paradise Valley offers some of the most exclusive, luxurious properties in Paradise Valley. If you are interested in purchasing a home in this highly sought-after area, get in touch with Thomas Osterman, a luxury real estate agent in Paradise Valley, AZ, with unsurpassed knowledge of the local area. With nearly two decades helping clients in Paradise Valley buy and sell homes, he can help you find exactly what you are looking for.
___________________________________________
Exploring houses for sale in Paradise Valley Arizona? Contact Thomas Osterman, an experienced Paradise Valley Realtor. Speak with Thomas by calling 602-405-4052 now!