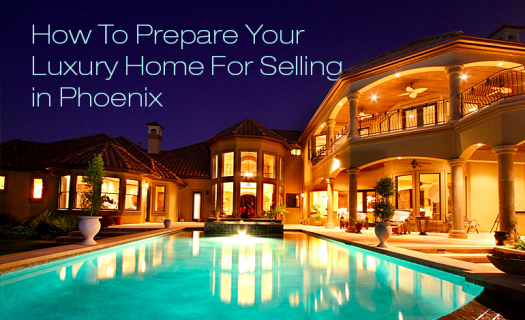 Is it time to write a new chapter in your book of life? Closing the front door on one home and opening another is an exciting venture.
Sure, there's a lot to juggle, but this time in your life offers all the fantasy and hope of a fresh start.
When preparing to sell your Phoenix house, there are a couple things you can do to position yourself for a successful sale.
Of course, your real estate agent will take care of many of the details for you. But, if you're anxious to get things going, here's a short list of odds and ends that will prepare your house for its final chapter.
Let's take a look, shall we?
1. Make Your Curb Appeal Shimmer
Let those neatly trimmed bushes sway in the breeze. Soak in the sight of a neatly trimmed lawn and clean-swept walkways.
They say you can't judge a book by its cover, but you can be sure every prospective buyer is going to be judging your book by its cover.
The exterior of the home is the first thing they see and frames their perception of your property.
So, look at it with a critical eye. Could it use a power washing? Are there any cracks in the walkway? Could that walkway use a couple of solar lights to trim the path?
Make your curb appeal so inviting, prospective buyers will feel all but lured in through your front door of your Phoenix house.
2. Declutter, Declutter, Declutter
Hopefully, clutter's not your style anyway. But if you have any secret little corners of the house that are well lived-in, be sure to give them a clean sweep.
And even if every square foot is clutter-free, don't forget about those closets. You can expect prospective buyers to peek in and out of the important ones: the master bedroom and the entryway closet.
Allow them to gauge its spaciousness – not experience an avalanche – when they open those doors.
3. Focus on the Moneymakers: The Kitchen & Bathroom
Kitchen and the bathroom remodels always bring the biggest return on their investments. Knowing their worth, it's important to let the focus rest on them.
Do any of these rooms need a little facelift? Simple touchups like new pendant lights can breathe life into your kitchen.
Or, is everything pristine the way it stands today? That's great! Then just be sure to keep those countertops completely clutter-free and gleaming as though they hold the stars.
4. Highlight the Extras in Your Phoenix House
By this, we mean the office and the laundry room. They're not exactly extras, but they're not the first rooms home buyers want to see. So, take a look at each of these rooms.
Does the office appear spacious yet comfortable? Is it a home office that buyers will want to make their own? Are those built-in shelves staged and clutter-free? Are the curtains appealing?
Is the laundry room clutter free, boasting plenty of storage space and glistening machines?
5. Bring in the Cleaning Crew
Once everything's in its place, bring in the big guns. Allow the cleaning crew to get those windows sparkling, those countertops gleaming, and every last nook and cranny clean as a whistle.
Your current house is still your home, at least until you buy your new castle in the sky. So, no one expects you to feel like you're living in a museum. But these simple tips will propel your sale into forward motion and turn your dreams into reality.
Call in the Experts
Once you're ready to go public, call your local real estate company and allow them to feature your home for that lucky buyer out there.
While you're at it, enjoy browsing my current listings in and around Phoenix, AZ. Together, you and I can move you from one luxury home to another.
And that new home is only a phone call away. Schedule an appointment today at 602-466-1846. I'll look forward to hearing from you!
_________________________________
If you're looking for the best North Phoenix real estate agent, contact Thomas Osterman today!
Call Thomas at (602) 466-1846 and enjoy a more personalized real estate experience.
Read Related Articles: