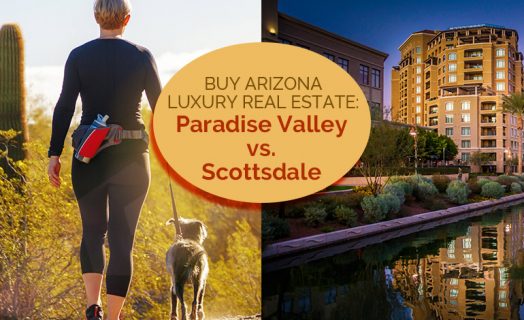 Are you looking to buy a luxury home, but can't decide between Scottsdale and Paradise Valley? With great schools, low crime rates, and amazing luxury housing options, you really can't go wrong with either community.
However, each location has its own unique features, and you will probably find that one community may be more aligned with your personal preferences. Here are some key features of Paradise Valley and Scottsdale to help you decide which community would be the best fit for you. As you will see, for those wishing to buy Arizona luxury real estate, Paradise Valley and Scottsdale both offer amazing and unique options for home buyers.
Paradise Valley: What Luxury Homebuyers Should Know
Most residents of Paradise Valley will tell you that it is just that—a paradise of sorts. Ranked one of the top fifty wealthiest communities in the United States (one of the few not located on a coast), Paradise Valley has personality and character all its own.
Paradise Valley real estate is prized by many because of its exclusivity and seclusion, which makes it a magnet for executives, actors, athletes, and others looking for a quiet, private oasis. Nestled on the east end of the Phoenix metro area, residents enjoy being in close proximity to all that Phoenix and Scottsdale have to offer. Commuting is a breeze with easy access to major highways, and there are an abundance of high-end shopping opportunities and activities within minutes of the area. Paradise Valley itself is zoned so that it isn't highly commercialized.
Paradise Valley luxury homeowners enjoy natural beauty with a quintessential desert view flanked by the majestic Camelback Mountain. Many properties feature large lots, offering a level of quiet and seclusion that is hard to find in Phoenix. Paradise Valley homes are a unique mix of 1950s style ranches with traditional desert landscaping, white pillared mansions with lush lawns, and modern estates with glass and steel walls and elaborate landscaping. Many properties feature long, winding driveways and gates or natural hedges for enhanced privacy.
Luxury home prices in Paradise Valley generally come in two or three times higher than those of close by communities like central Scottsdale or Carefree. For example, the median home sales price for October 2018 was $1,312,500. Homebuyers looking to build custom homes in Paradise Valley often opt to purchase and tear down older homes or buy empty lots to build homes to their exacting specifications. Looking for something smaller? Mountain Shadows offers beautiful, upscale 1-, 2-, and 3-bedroom luxury condos. Check out homes for sale as well as the most up-to-date market statistics for Paradise Valley homes here.
The ultra-exclusive Paradise Valley Country Club, luxurious resorts, first-class golf courses, and fine dining opportunities can be found within town limits. With abundant shopping, arts, entertainment, and other options just minutes from Paradise Valley's borders. Get your nature fix on at Mummy Mountain, Camelback Mountain or the Phoenix Mountain Preserve. If you want to be close to your favorite activities while maintaining a quiet, secluded lifestyle, this is the community for you.
Scottsdale: What Luxury Homebuyers Should Know
If you are looking to buy luxury real estate in Scottsdale, you will have a lot of different options to choose from, depending on your preference. With Phoenix to the west and the picturesque McDowell Mountains to the east and a vibrant local economy, it is no wonder that Scottsdale ranks as one of the nation's most desirable communities to visit and to live in. Scottsdale generally offers easy commutes, and its location lends itself to just about any imaginable activity. Within Scottsdale, you will find a couple of distinct and completely different communities.
North Scottsdale
North Scottsdale is very scenic and upscale, with wide open spaces and unbeatable desert scenery. The North Scottsdale area draws many types of residents: athletes, celebrities, high-level executives, move-up buyers, equestrian home buyers, and young families.
Located north of Shea Boulevard in Scottsdale, this exclusive locale is characterized by status symbols including luxury European SUVs, manicured golf courses, beautiful desert landscapes, expansive horse properties, larger lots, and high-end custom homes. An abundance of well-manicured country clubs and award-winning golf courses, including the Tournament Players Club (TPC) where the Phoenix Open is played, are found in the area. There are several newer gated communities and golf communities from which to choose, making this area less secluded than Paradise Valley and providing more opportunity for socialization.
For October 2018, the median sales price for a home was $700,000, making North Scottsdale generally more affordable than Paradise Valley. Most of the current real estate listings you will find are large, modern, and luxurious. In this area, Santa Fe architecture is popular, with some properties harkening back to older Spanish estates. Many properties, including those in gated communities, surround Pinnacle Peak, a distinct and highly sought-after landmark which makes for amazing views. Current market statistics for North Scottsdale homes can be found here.
Central Scottsdale
Tucked between North Scottsdale and Tempe is Central Scottsdale offering a more urban, eclectic feel. The area is bustling with night clubs, bars, shopping, and other entertainment. On the south side of the Arizona Canal, you will find Old Town and just north of the canal is Fashion Square Mall, home to a number of high-end boutiques, art galleries, and fine dining establishments. Affluent residents from Paradise Valley and Scottsdale flock to Central Scottsdale for shopping, dining, and entertainment.
This area of the city is known to be friendly to bike riders and pedestrians and offers a variety of luxury homes, townhomes, condos, and patio home communities. Common home designs found in this area are 1950s and 1960s ranch-style houses, but new urban development is resulting in luxurious custom builds. Typically, the lot sizes are smaller than what you will find in North Scottsdale. If you like to live close to the action, this area is worth checking out!
Finding the Best Realtor for the Luxury Home Buying Process
Buying a home is a major life decision, and it can be difficult to determine which community will best suite your needs. You don't have to go it alone! An experienced Scottsdale realtor who specializes in high-end luxury homes can work with you to understand your requirements and budget to help you find that perfect home. Thomas Osterman specializes in luxury real estate in Paradise Valley, Scottsdale, and surrounding areas and can use his knowledge and expertise to help you find your dream home. Give him a call today at (602) 405-4052.
_________________________________
Interested in purchasing a luxury home in Paradise Valley or Scottsdale, but aren't sure where to start? Contact Thomas Osterman for a personalized buying experience. As a top Arizona luxury real estate agent, he can help you negotiate the best purchase price on the luxury home of your dreams.
Read Related Articles: