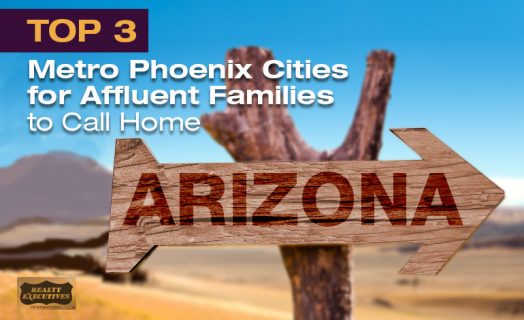 We all want the best for our families. When choosing where to live, we naturally consider not only safety but also environment, opportunities, quality of education, and other preferences.
Are you thinking of purchasing a luxury home in the Phoenix area? Great choice! There are several exceptional neighborhoods from which to choose, depending on your unique requirements.
Read on to learn more about three stand-out Phoenix, Arizona, cities for affluent families.
1. Arcadia
Many affluent families are drawn to Arcadia because of its character, charm, beauty, and excellent schools. Located on the south side of Camelback Mountain, Arcadia is the gold standard among prestigious Phoenix neighborhoods for a number of reasons.
First, there are a variety of lavish custom homes available, many of which were built to suit with unique architectural features. Properties tend to be on larger lots adorned with lush, mature green landscapes. Orange, grapefruit, and lemon trees, which were once a main source of income for Arcadia farmers, are now ornamental tributes to Arcadia's history. According to realtor.com, the current median home list price is around $975,000 with some home prices soaring well over six million. The market is competitive, so if you find something your family will love, jump on it quickly.
If you want to enjoy all the area has to offer but don't want to spend quite as much, Arcadia Lite is a great option. Arcadia Lite is just to the west of Arcadia. Here you will find more moderately priced homes and townhomes with the same allure and old-school community vibe that makes Arcadia so well loved.
Arcadia has been diligent in retaining its mid-century architecture and charm. Families looking for a quiet, safe neighborhood with a strong sense of community will appreciate the peaceful, family-oriented environment and lack of commercialization. If you are searching for a tranquil place to live with close proximity to all that Phoenix has to offer, this might be just what you are looking for.
One of the most important considerations for families looking to purchase a home is the quality of the schools. Not surprisingly, Arcadia excels in this category as well. As a part of the Scottsdale Unified School District, Arcadia residents can take advantage of some of the best public schools in the state as well as a number of prestigious private schools nearby.
Whether you are a nature lover or want to be where the action is, there's no shortage of things to do in the area. Hanging out with the neighbors in a spacious backyard, enjoying public parks and green space, or riding bikes on quiet neighborhood streets; families have ample opportunity to enjoy the great outdoors in a safe, quiet community. Situated between both Phoenix and Scottsdale, it takes only minutes to check out a professional sporting event, visit art museums and exhibits, enjoy music venues, find high-end shopping, and more! Click here to learn more about living in Arcadia.
2. Biltmore
Nicknamed "The Grand Old Dame of Phoenix," this neighborhood is steeped in history and affluence. Named after the world-renowned Arizona Biltmore golf resort, which is located at its center, Biltmore is a classic example of what the Phoenix desert offers.
Families looking for the perfect home will have many options, including beautiful patio homes bordering the golf course and even tucked away Spanish Colonial Revival estates. Many properties, like those located in the Arizona Biltmore Resort, enjoy a spectacular view of the Phoenix Mountain Preserve and well-manicured green landscapes. Prestigious gated communities, like Biltmore Greens and Taliverde, offer high-end homes in a private setting. The Colony subdivision is also a great option for families. Home prices vary greatly in this high-demand area, starting from around $500,000 in the Colony subdivision to well above two million the closer you are to the Resort. Regardless of the property your family chooses, you can be confident that it will retain its value.
Many well-off families and celebrities alike gravitate towards the Biltmore area to send their children to some of the best private schools in the state, including Xavier College Preparatory High School, Brophy College Preparatory High School, and the nearby Phoenix Country Day School (K-12).
Like Arcadia, Biltmore's convenient location gives your family easy access to a dizzying array of attractions in downtown Phoenix and Scottsdale. The Biltmore Fashion Park, located in Phoenix's Uptown neighborhood, is a great open-air shopping venue featuring world-class retailers, small boutiques, and amazing dining options. If your family enjoys the outdoors, take walks, hike, or bike on the Arizona Canal Trail or Piestewa Peak Park. Trek up Piestewa Peak to experience local wildlife and enjoy spectacular views! You can learn more about the Biltmore neighborhood here.
3. North Scottsdale
As one of the nation's most expensive second-home markets, business moguls, celebrities, athletes, and affluent families are drawn to North Scottsdale's expansive horse properties, golf courses, custom-built mansions, and beautiful desert landscapes.
There are several exceptional North Scottsdale communities to choose from, each having its own unique features. With a little research and help from an experienced North Scottsdale luxury real estate professional, you will undoubtedly find the perfect spot that fits your family's unique preferences. Here are a few fantastic options to get you started:
DC Ranch
This gated community, located at the base of the impressive McDowell Mountains, has grown exponentially since it began in the late 1980s. Comprised of four neighborhoods–Desert Camp Village, Desert Parks Village, Country Club Village, and the ultra-exclusive Silverleaf Village–there are multiple housing options to suit your tastes. Each village has its own community gathering area to encourage socialization among neighbors. Along with amenity-rich community centers, there are two distinct country clubs, the DC Ranch Country Club and the Silverleaf Country Club, both of which boast professionally designed golf courses and clubhouses with unique features.
Children living in DC Ranch can choose from several highly ranked private schools in the area or attend public school in two of Arizona's top school districts–The Paradise Valley or Scottsdale Unified School Districts.
Grayhawk
Known for its beautiful natural park areas, renowned golf courses, and high architectural and design standards, Grayhawk consists of several gated developments as well as condos and townhomes located near the clubhouse. The Park is a family-centric neighborhood within Grayhawk that offers ample green space where families can gather, play, and socialize.
Families can also take advantage of boutique shopping, health clinics, fitness centers, and restaurants at the Grayhawk Plaza Shopping Center.
In addition to many excellent private schools in the North Scottsdale area, including El Dorado Private School, Grayhawk residents can send their children to the nationally-recognized Grayhawk Elementary School, which is part of the Paradise Valley Unified School District.
Troon Village
If your family values privacy and unparalleled natural views, you'll want to check out the luxury real estate in Troon Village. With a slightly higher elevation, residents enjoy beautiful views of McDowell Mountain Range and slightly cooler temperatures than other parts of Scottsdale Valley. Choose from guard-gated, gated, or ungated private subdivisions or custom homes on private lots near McDowell Mountains and Pinnacle Peak.
Troon Village offers various recreational opportunities. Delight in the beautiful setting with a round of golf or by exploring the great outdoors. Residents may also enjoy using the Troon Country Club's pool, tennis courts, and fitness center.
Kids in Troon Village can attend school within the Cave Creek Unified School District (the number one school district in Maricopa County) or choose from many highly-recognized private schools in the Phoenix area.
With so many great options, finding the best luxury real estate in Phoenix can be an overwhelming task. If you need some help, please get in touch with Thomas Osterman. He has a wealth of knowledge and experience helping families find high-end real estate in the best Phoenix neighborhoods.
_________________________________
As a veteran Phoenix AZ real estate agent, Thomas Osterman specializes in helping luxury home buyers and sellers get the most for their investments. Call Thomas at (602) 405-4052 today and enjoy a more personalized real estate experience.
Read Related Articles: