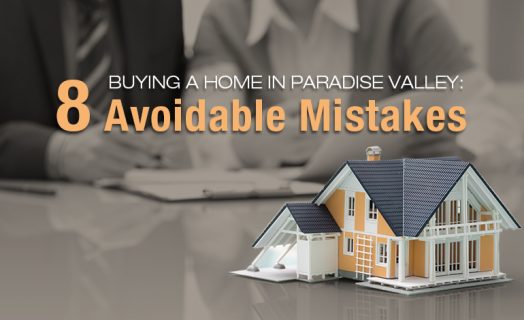 Some would argue that it is impossible to make a mistake when buying a home in Paradise Valley. With beautiful luxury estates, an idyllic desert setting with amazing views, and a level of privacy that's hard to find in the Phoenix metro area, many people find it a highly desirable place to live.
However, there are some common mistakes that home buyers can make. Avoid buyer's remorse by steering clear of these eight problems.
8 Common but Avoidable Home Buying Mistakes
Mistake 1: Not Doing Your Research
Become familiar with the neighborhoods you are considering, because no matter how nice your home is, it will not be an enjoyable place to live if its surroundings are not up to your standards. Look at things such as crime rate, quality of schools, quality of health care in the area, and how busy or quiet the areas are that you are interested in. Spend some time in the neighborhoods you are considering to get a feel for the community. Paradise Valley gets high marks in many of these areas, but if you are very social and like a bustling neighborhood, its quiet streets may not be what you are looking for.
Mistake 2: Your Financing Isn't in Order When You Make an Offer
Before you start looking at homes, sit down and take a hard look at your budget to determine how much house you can afford. Start the pre-approval process for financing so you know what your pre-approval amount is before you start home shopping. In this competitive market, you will need to have your financing secured prior to putting in an offer on a home so time isn't wasted during the negotiation process.
Mistake 3: Following the Market Trends
The real estate market goes in cycles and is sometimes more favorable to buyers or sellers. If you are shopping for your next home, it can be tempting to wait for a buyer's market to purchase, but that isn't always the best choice. Purchasing a home is a long-term decision that shouldn't hinge on short-term market swings.
Mistake 4: Falling Head Over Heels for a Home You Can't Afford
We are all susceptible to this. You see a home that isn't exactly in your price range, but you can't help but fall completely in love with it and are willing to bend over backwards to make it workable! If you avoid entertaining houses out of your price range from the start, you can save the heartache of falling in love and having to walk away from the house of your dreams because of its price. Or worse, the pain of purchasing a home that isn't feasible for your budget and then having to struggle to keep up with expenses. This is especially easy to do in Paradise Valley, where you will find spectacular homes with a price tag that is 2-3x that of similar properties in surrounding areas.
Mistake 5: The Home Buyer "Fatigue" Purchase
Searching for your next home can be exhilarating at the beginning, but after a couple of months searching for just the right house, you may become weary with the process and become tempted to settle for a home that is "good enough." You can come to quickly regret this decision. Hang in there until you find your dream home! According to Realtor.com, the average homebuyer will look at ten homes in as many weeks before they find one on which to place an offer, but this isn't always the case. Some may immediately fall in love with the first house they visit, while others will view dozens of potential future homes over the span of several months in search of "the one." If you are searching for a luxury home, like many found in Paradise Valley, it may take even longer to find the perfect one depending on availability.
Mistake 6: Not Factoring in All the Costs Associated with a Home Purchase
Oftentimes homebuyers are not aware of all the costs that go along with the home purchase. Things like moving costs, mortgage insurance, loan application fees, closing costs, HOA fees, and other fees can strain your budget if you aren't ready for them. If you work with a top Paradise Valley realtor, he or she will be able to let you know what costs you can expect.
Mistake 7: Not Having a Professional Inspection Performed Prior to Sale
Once you have an accepted offer on the home of your dreams it is important to hire a professional building inspector to inspect the property for potential problems for a couple of reasons. First, any major problems found can be leveraged during the inspection negotiations. Second, an inspection will give you peace of mind and help you avoid expensive surprises that can turn your dream home into a nightmare later on.
Mistake 8: Choosing the Wrong Real Estate Agent (or No Agent)
When house hunting on your own, you will encounter many helpful, friendly real estate agents. Just remember that they are working on the seller's behalf to get them the best deal. By enlisting the help of an experienced Paradise Valley buyers' agent, you can ensure that you have someone looking out for your best interests.
Choose your realtor wisely. A good one will have intimate knowledge of the Paradise Valley housing market, where the best deals are, and hidden gems in the area based on your search criteria.
Purchasing a Home in Paradise Valley, Arizona
Are you interested in purchasing a home in Paradise Valley? Then you will want to find the best real estate agent for Paradise Valley property. Thomas Osterman has been helping Paradise Valley home buyers find their dream homes for over fifteen years. Contact him today to learn how he can help you find the perfect home!
_________________________________
Steer clear of avoidable home buying mistakes by finding the best Paradise Valley realtor to guide you through the process! Thomas Osterman has over fifteen years of experience assisting clients with their Paradise Valley home buying and selling needs. Give him a call today at (602) 405-4052 to get maximize the returns on your real estate.
Read Related Articles: