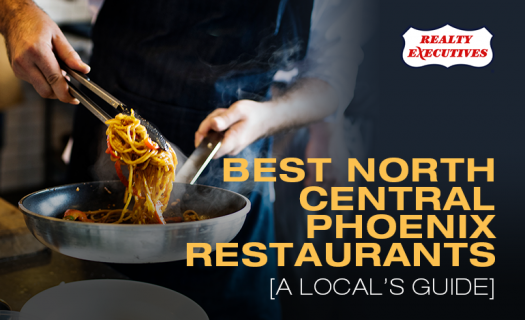 North Central Phoenix has become a hotbed of culinary creativity. New restaurants with exciting concepts open every year, broadening our city's already impeccable sense of taste while exposing us to new, fun takes on cuisine.
If you are looking to sample some of the best North Central Phoenix restaurants that exemplify this growing trend, then you can check out the following list of five of our current favorites in the area.
St. Francis
Housed in a gorgeous, industrial style building with striking architecture, St. Francis is a scrumptious iteration on all the hip, "family style" restaurants you have been seeing pop up all around the country. But don't let the barebones vibe fool you; the seasonal menu is full of rich, nourishing ingredients that offer both comfort food and adventurous takes on fresh veggies.
Visit between three and six on Friday's to catch "Happy Hour" for discounted food and drinks, or enjoy brunch on Saturday or Sunday for an incredibly tasty midday meal.
Windsor
Windsor aims for everyone to have fun, and their simple yet hearty menu shows it. Expect filling pub-style burgers, sandwiches and appetizers that have incredibly delicious executions on familiar ingredients. For instance, the deviled eggs and chips boast Tender Belly bacon along with sharp, pungent gorgonzola cheese for an unexpected delight.
Windsor also has a rotating menu of refreshing craft beers on draft that highlight the best of what the various regions of the United States can offer, including local brews from Four Knots!
Postino
While many of these other restaurants are "new kids on the block," Postino is based on resurrecting a local Phoenix legend of a bar that served as an Arcadia haunt since the 1950's. Postino Central later opened up to spread the concept's afternoon and evening treats to another historic area of the city.
Postino offers light lunch fare like paninis and bruschetta along with a mind-blowing selection of delicious wines and craft beers. They also serve brunch!
Southern Rail
The Southern Rail seems to go out of its way to put you in familiar, comfortable surroundings. Aged leather booths and brass chandeliers set the stage for a menu filled with deviously delicious bites. Every dish also has a playful regional "twist" to it, such as the muffaletta burger or the smoked chicken and "biscuit dumplings."
Several menus are offered depending on when you arrive, so check back often to catch different versions of your favorite flavors!
Culinary Dropout at The Yard
"The Yard" is sure to become one of the next biggest hotspots in Central Phoenix. This creative commercial development puts several restaurants and cafes right next to each other with a shared public area that is absolutely perfect for live music and events.
Right now, the Culinary Dropout is the food focal point of The Yard, and it serves addictively scrumptious foods like BBQ pork belly nachos and melt-in-your-mouth ribs. Come whether you are hungry or not, though, because between the live music and extensive drink selection, The Yard is a great place to hang out on any given night.
Live Right Next to These Amazing Restaurants
You can find a historic or new home in Central Phoenix within striking distance of all these incredible eateries when you work with a Realtor in North Central Phoenix.
_________________________________
Are you interested in homes for sale in Noth Central Phoenix? Contact Thomas Osterman, an experienced Phoenix real estate agent. Call 602-405-4052 to speak with Thomas now!
Read related articles: