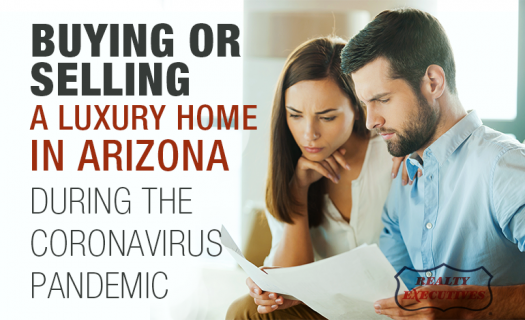 Managing and navigating life during the Coronavirus pandemic is something new to all of us. Not to mention how challenging it has been on the health care systems, front line workers, families, businesses, and the economies of countries around the globe.
Here in the United States, there's no doubt that the overall volume of real estate transactions has slowed down dramatically.
The number of resale homes hitting the market has decreased, but homebuilders are still building and sales offices remain open and many are offering virtual selling environments to keep sales moving.
So yes, you can still buy a new home or buy or sell your Arizona home!
With appropriate precautions, flexibility, and a little patience, real estate transactions continue.
Here is what you should know about buying or selling a luxury home in the Phoenix or Scottsdale area in the middle of a pandemic.
AZ Luxury Homes Are Still Being Bought and Sold
The reality is that real estate sales continue because people will always need to buy and sell homes for one reason or another.
Whether relocating or downsizing due to a pay cut, or job loss, homes continue to be listed, especially by motivated or serious sellers.
However, some luxury homeowners who don't need to sell right now are delisting until we are on the other side of the pandemic.
On the flip side, there are still buyers looking to get into new homes for a myriad of reasons, like relocating for work or school.
Opportunistic buyers are also out looking for a good deal from a motivated seller.
Buyers have additional incentive to purchase right now given the historically low mortgage rates.
Real Estate Changes During the Coronavirus Pandemic
While these transactions continue, buyers and sellers have had to change the way business is conducted.
But since real estate is considered "essential business," you can still work with an experienced real estate agent to get the job done.
If it is time for you to sell, be sure to work with a luxury real estate agent who knows how to effectively market your home online.
With the stay-at-home guidelines, it's crucial that he or she knows how to use the latest technology to give potential buyers virtual access to your home.
Here are some of the ways things have changed during this restricted time:
Virtual Tours:
Many realtors are now offering virtual tours via Skype, Facetime, Facebook Live, Zoom, and other platforms, giving potential buyers the opportunity to tour homes without leaving the comfort and safety of theirs!
3-D interactive property scans and high-quality photo collections are some other ways real estate agents are marketing homes to buyers by giving them a good sense of the property.
Private Showings:
Many real estate professionals are opting to go with private showings instead of open houses to honor social distancing guidelines of six feet of distance.
Masks and gloves are often worn, and visitors are asked to refrain from touching surfaces.
Those who are showing their home are encouraged to open all the doors, turn all the lights on, and make everything easily viewable so visitors don't need to touch anything.
Meetings:
For the safety of all involved, clients may be asked if they are showing any signs of illness or have recently traveled to an area where COVID-19 is prevalent before any face-to-face interaction takes place.
Many meetings are now being done virtually using video conferencing tools.
For in-person meetings, many real estate professionals will don masks and gloves.
Transportation:
It has been a common practice for many realtors to transport clients in their car when going to view a home.
Now, clients are often asked to drive separately for the safety of all.
During this challenging time, it is more important than ever to use an experienced real estate agent to help you buy or sell your Scottsdale, Paradise Valley, or North Phoenix luxury home. Thomas Osterman has been in the real estate industry for over three decades and has helped clients navigate luxury real estate transactions during market highs and lows. Contact him today so he can put his experience to work for you!
_________________________________
Thomas Osterman, a veteran real estate agent, specializes in helping luxury home buyers and sellers get the most for their investments. Connect with Thomas by calling (602) 405-4052 today and enjoy a more personalized real estate experience.
Keep Reading!