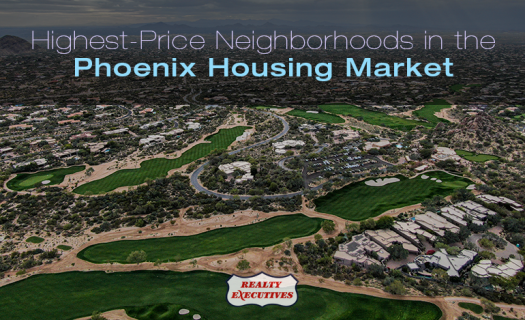 The Metro Phoenix housing market has been blazing hot for quite some time now. With a lack of supply and a high buyer demand, houses for sale are selling at a dizzying pace, oftentimes well above asking price.
Here are some quick facts from Realtor.com's May 2021 Monthly Housing Market Trends report.
For the Phoenix-Mesa-Scottsdale area, the median listing price is $450,000, which is a 17.1% year-over-year increase.
The median days on the market is currently 29, which is a year-over-year decrease of 22 days.
The luxury home market is booming, due partially to an influx of out-of-state luxury buyers. Phoenix ranks 17th of the top 51 luxury real estate markets this year.
While demand is high throughout the Metro area, there are four stand-out neighborhoods that are driving the robust housing market that we see today. Read on to learn more about them.
Four Phoenix Neighborhoods Driving the Housing Market in the Metro Phoenix Area
Here are four of the highest-priced Phoenix neighborhoods from highest to lowest. If you are in the market to buy a home in one of these highly sought areas, it is recommended that you contact an experienced local buyer's agent to help you find just what you are looking for.
Paradise Valley
A longtime favorite for luxury homebuyers, Paradise Valley offers a blend of luxury, privacy, spectacular beauty, and nearby amenities.
Paradise Valley recently came in at number twenty of Bloomberg's 25 richest places in the United States.
Affluent business owners, athletes, and others seeking the best of all worlds have chosen and continue to seek out luxury properties in Paradise Valley to call home.
According to Zillow, the typical home value in Paradise Valley is $2,498,690. This is a whopping 26.9% higher than the median home price last year.
North Scottsdale (Zip code 85262)
Coming in second place on our list are the North Scottsdale neighborhoods in the 85262 zip code, including luxury golf community Desert Mountain, Troon North, and other neighborhoods surrounding Pinnacle Peak.
Demand for housing is high for good reason. Amazing views, custom mansions, vast horse properties, easy access to award-winning golf courses, and more draw in affluent residents from around the country.
As of May 2021, the typical home value in this zip code is $1,171,793. Home values in this area have risen 25.5% over the past year and are predicted by Zillow to go up another 11.6% in the coming year.
North Scottsdale (Zip code 85266)
Third on the list is this North Scottsdale neighborhood with the 85266 zip code, including beautiful planned communities like Terravita and The Boulders.
Residents enjoy gorgeous desert views and ample amenities like access to championship golf courses, high-end shops, spas, fine dining, and more in Carefree, Cave Creek and North Scottsdale.
According to Zillow, the typical home value is $993,841, up 25.8% from last year. Values are expected to rise 11.8% in the next year.
North Scottsdale (Zip code 85255)
Home to fantastic gated communities like Silverleaf and DC Ranch, this area of Scottsdale attracts magnates, business moguls, and others that value safety and privacy.
Since it is further north, many residents enjoy the valley views and city lights from a higher elevation. The well-preserved natural landscape allows for unobstructed, quintessential desert views.
Despite its natural beauty, this location is in close proximity to the Loop 101 freeway, which offers easy access to just about anything you could want.
According to Zillow, the typical home value in the 85255 zip code is currently $959,369. This is 25.6% higher than the average at this time last year and is predicted to go up another 11.8% in the coming year.
Purchasing Luxury Real Estate in a Hot Phoenix Housing Market
There's no denying that the competition is fierce in the Phoenix housing market if you are looking to buy a luxury home in one of these fantastic neighborhoods or one of the many other highly desirable communities in the area.
Fortunately, veteran realtor Thomas Osterman has decades of experience helping luxury home buyers find their dream homes, even in the most competitive markets! Contact him today to learn how he can help.
---
Are you ready to buy or sell in the Phoenix Valley? Work with a real estate agent that has experience helping luxury home buyers and sellers get the most for their investments for decades! Call Thomas today at (602) 405-4052 and enjoy a more personalized real estate experience today.
Keep Reading!