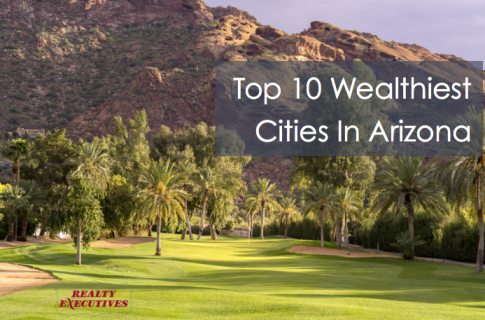 Arizona has been attracting affluent residents from other states for quite some time.
However, properties in the state are more desirable than ever before given the cost of living, freedom to work remotely, fantastic weather, and other factors.
According to the United States Census Bureau, the state's median household income was $58,945 as of 2019.
Nevertheless, there are many cities in Arizona that surpass that average.
The following are the top ten wealthiest cities in Arizona based on median household income.
Data comes from the U.S. Census Bureau.
10 Wealthiest Cities in Arizona

1) Paradise Valley
Nestled in Maricopa County, Paradise Valley is the richest city in Arizona (and one of the richest in the country).
Its quiet charm and privacy attract affluent business moguls, celebrities, sports figures, and residents looking for a private oasis.
With a population of 14,637, the median household income is $211,393. Interested in purchasing a home in Paradise Valley? Learn more here.
2) Queen Creek
Located in both Maricopa and Pinal counties, Queen Creek has doubled its median household income since 2000, where it currently stands at $105,729.
While it has a quiet, rural feel, Queen Creek has seen recent growth in both infrastructure and residential homes, making it an attractive option for homebuyers.
3) Gilbert
Situated in Maricopa County, the growing town of Gilbert is just southeast of Phoenix's metropolitan area, making it convenient for commuting, travel, upscale dining and shopping, and more.
The current median household income for Gilbert residents is $96,857.
4) Scottsdale
A long-time favorite in Maricopa County, Scottsdale comes in at number four with a median household income of $88,213.
No matter what your preference, Scottsdale has it. Learn more about living in Scottsdale here.
5) Marana
Located twenty-two miles northwest of Tucson in Pima County, the town of Marana is one of the fastest-growing locations in Arizona.
The current median household income stands at $85,812.
6) Fountain Hills
Known for its impressive fountain, which was once the tallest in the world, the town of Fountain Hills is in close to both the Greater Phoenix Metro area and Scottsdale in Maricopa County.
Median household income is currently around $85,200.
7) Goodyear
A suburb of Phoenix in Maricopa County, the city of Goodyear is just twenty minutes from downtown and offers all the amenities one could imagine with just a short drive.
The median household income for Goodyear residents is about $83,866.
8) Litchfield Park
Litchfield Park in Maricopa County is located fifteen miles west of Phoenix.
Residents enjoy a resort lifestyle with beautiful surroundings.
The annual median household income for Litchfield Park residents is $83,156.
9) Chandler
Southeast of Phoenix and next to Gilbert (the third city on this list) is the city of Chandler in Maricopa County.
The median household income in this park-rich city comes in at around $82,925.
Chandler is noted for its family-friendly atmosphere and suburban feel.
10) Sahuarita
Located in Pima County in the historic Santa Cruz Valley, the town of Sahuarita is appreciated for its quiet, rural feel with close proximity to the city of Tucson.
Currently, it is estimated that the median household income is $80,525.
Selling or Buying a Luxury Home in Paradise Valley, Scottsdale, or Phoenix

As you have probably noticed, Maricopa County is home to several of the richest cities in Arizona, and real estate in the area is extremely competitive.
As the economy continues to pick up steam and COVID restrictions ease, it is a good time to get in the game.
If you are a seller, this is a great time to put your house on the market. Choosing an experienced agent can help you get the most from your sale.
If you are interested in moving to Paradise Valley, Scottsdale, or surrounding areas, you'll want the help of a top buyer's agent with an intimate knowledge of the local market.
Thomas Osterman has been helping clients buy and sell real estate in greater Phoenix for over two decades. He can help you find just what you are looking for!
Contact him today to see how he can help with your luxury real estate needs.
---
Are you looking to buy or sell in the Phoenix Valley? Work with a real estate agent that has been helping luxury home buyers and sellers get the most for their investments for decades! Call Thomas today at (602) 405-4052 and enjoy a more personalized real estate experience.
Keep Reading!