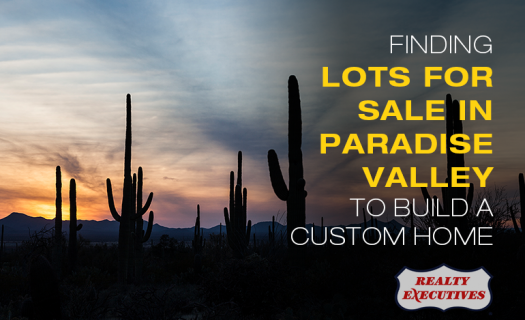 If you've started searching for luxury homes in Paradise Valley, you have likely realized that these homes are selling like hotcakes!
With a shortage of homes available, and many potential buyers competing for the limited inventory, finding a home that fits your needs can be a major challenge.
That said, there are other options available when it comes to obtaining your Paradise Valley dream home.
One option is looking for lots for sale in Paradise Valley where you can build a custom home to your exact specifications.
Benefits of Purchasing a Lot for Sale in Paradise Valley
As one of the wealthiest communities in the United States for several years running, Paradise Valley offers a secluded and highly exclusive sanctuary for its residents.
Corporate executives, celebrities, athletes, and others looking for a beautiful, private desert setting with fantastic weather and close proximity to all the high-end amenities in nearby downtown Phoenix and Scottsdale have and continue to flock to Paradise Valley to enjoy all the town has to offer.
With the current low inventory of luxury homes in Paradise Valley, potential home buyers are turning to alternative options to get their own slice of paradise.
Because of this, lots are also in high demand. For best results, choose an experienced Paradise Valley realtor who can help you find the perfect lot for your new home.
Here are some benefits that are steering house hunters to available lots in Paradise Valley.
Pick the Perfect Floor Plan
One major benefit to building on a Paradise Valley lot is having the freedom to choose a custom home plan that fits your unique needs.
Whether you have a large family and want several bedrooms and multi-functional spaces, are a car buff looking for a garage to showcase several vehicles, or are a yoga or workout buff in need of dedicated exercise space, you can find a builder to incorporate those spaces on your Paradise Valley lot.
Choose the Best Location
Finding a home in a great location is one of the most important considerations for most luxury home buyers.
That said, one of the great perks of building a new luxury home is that you can choose the location. You can find a lot that has beautiful views, privacy, proximity to certain areas, whatever your preferences.
You can also choose a lot size or shape that will accommodate the floorplan you have chosen for your new home.
Get the Latest Custom Features
No doubt, you have ideas on what you want in a home.
Maybe it's something like a smart home with all the latest technology; a gourmet kitchen with the latest gadgets, appliances, and an oversized island; or a bifold moving glass wall system to enjoy the outdoors, fresh air, and abundant sunshine year-round. The sky is the limit when it comes to custom features.
While you can likely find some of the features you are looking for in an existing home, you probably will not get everything you want.
This is where building can be a better option.
Go Green
Retrofitting a home for certain features can be a costly and lengthy endeavor.
This is especially true if you are trying to make your home more environmentally friendly.
With a new build, you can easily incorporate the appliances, materials, features, and building strategies needed to make your home as green as possible.
Luxury Lots in Paradise Valley
Luckily, there are 35 lots available in Paradise Valley! Check out our post to see some of the locations currently available for a custom build in Paradise Valley and surrounding areas.
If you are considering purchasing a lot in Paradise Valley on which to build your custom home, you should know that many people have already caught on to this idea, so you may face competition for that perfect spot.
Thomas Osterman is a well-connected Paradise Valley buyer's agent who has been helping clients find their dream properties for over two decades. If you are in the market for a Paradise Valley home or lot to build on, get in touch with him today to see how he can help make your vision a reality.
---
Are you ready to buy or sell in the Phoenix Valley? Work with a real estate agent that has experience helping luxury home buyers and sellers get the most for their investments for decades! Call Thomas today at (602) 405-4052 and enjoy a more personalized real estate experience today.
Keep Reading!