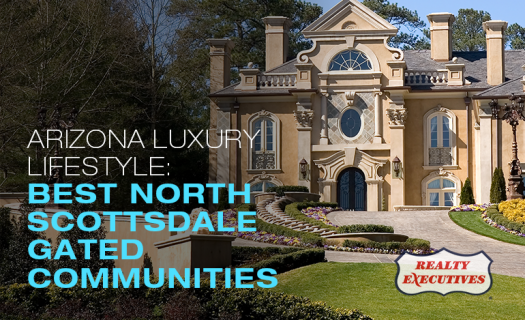 North Scottsdale offers a premier selection of some of the finest and most luxurious neighborhoods in the country. Anyone who is considering moving to the area or relocating within the area would be impressed by the scope and grandeur of nearly any one of the North Scottsdale gated communities.
These areas are highly-exclusive and home to close-knit groups of neighbors who are more than willing to welcome someone new onto their block. Live in comfort and, above all else, safety in any one the following guard-gated communities:
The Best in Luxury North Scottsdale Gated Communities
Scottsdale is home to countless moguls and magnates who value their privacy and safety. As a result of this large population of esteemed residents, there is an abundance of magnificent gated neighborhoods concealing the incredibly-opulent homes contained within. Along with a high level of security, these guard-gated Scottsdale real estate properties also boast many desirable amenities.
Silverleaf in DC Ranch
Silverleaf is high in the running for one of the most affluent communities in all of Scottsdale. Located within DC Ranch, this exclusive gated village offers a wide range of home listing prices from $1 million up to $32 million. Anyone who lives in the area certainly has the financial security to rub shoulders with Scottsdale's elite.
This sprawling community winds its way up the slopes of the McDowell Mountains, offering spectacular views from anywhere in the neighborhood. Silverleaf offers homes in several master-planned neighborhoods located near the 50,000 square foot members-only clubhouse. They also provide custom home sites further up the mountains so that the most select residents can enjoy unmatched privacy and nearly 360 degree natural views.
Within this village sits the beautifully manicured 18-hole private golf course designed by Tom Weiskopf. Residents can enjoy the private country club and a variety of social events and activities, shopping, fine dining, and entertainment.
Estancia
Encircling Pinnacle Peak Park is Estancia, one of the fastest-growing communities to rise up among the Scottsdale hills. Like Silverleaf, nearly every home is custom and the biggest appeal is the wide array of lots available for construction. An exclusive 32,000 square foot clubhouse serves as a community hub where neighbors can dine in a private dining room, swim laps, play some tennis or just soak up the Old World charm of the gorgeous, Tuscan-styled architecture.
Lovers of golf will also appreciate Estancia's award-winning course designed by Tom Fazio. The course design is of such a high quality that Golf Digest even named it as their #1 best private golf course in 2014.
Granite Mountain Ranch
Are you a horse lover? Then you will want to check out Granite Mountain Ranch. Situated in the Rio Verde Foothills of North Scottsdale, this luxury gated equestrian community is a horse owner's dream. Located across from the Tonto National Forest, this 313-acre community includes 100 home sites; a 15-acre equestrian area with riding arenas, wash stalls, and round pens; and riding trails to the surrounding lakes and mountains. Homeowners enjoy majestic valley and mountain views and abundant desert wildlife. While some own horses, many do not. Aside from riding, residents have easy access to biking, hiking, fishing, and more in a serene and tranquil setting. An abundance of upscale shopping, golfing, and dining opportunities are within twenty minutes of the Ranch.
The Best North Scottsdale Gated Golf Communities
While some of the Scottsdale, AZ gated communities above certainly have amazing links worth visiting, their emphasis is more on a well-rounded offering rather than a wholly golf-focused experience. The following gated communities were built with their golf courses as the core attraction. And while none share the distinction of Estancia's "best private course" superlative, they are all nevertheless listed on Golf Digest's Top 100.
Desert Highlands
Desert Highlands is a community built around love of the golf game. With an 18-hole course designed by none other than the great Jack Nicklaus himself, a diverse array of golf lovers of all ages and interests settles here. Since owning one of the 560 homesites is a requirement to be a member, people who want access to the enviable greens and challenging fairways are eager to sign their home deed.
As an added bonus, the clubhouse also boasts some of the best tennis facilities in Scottsdale. Four clay courts and four grass courts add to the five choices in synthetic hard-top courts so that any tennis lover can round out their skills. There is also a state-of-the-art 7,000 square foot fitness center to keep you at the top of your game.
Desert Mountain
If you are looking for the ultimate golf experience, then the guard-gated, 8,000 acre, private community of Desert Mountain is a must see. Desert Mountain boasts 6 Jack Nicklaus golf courses and 6 opulent clubhouses, a beautiful tennis facility, an expansive fitness center, pools, parks and trails; there is truly something for everyone at Desert Mountain.
Homes in this elite neighborhood start in the mid $600K's and range up to $30+ million. Whether you're looking for a 2 bedroom 'lock and leave' Tuscan style vacation home or a 10,000+ square foot contemporary custom built home, Desert Mountain has what you're looking for. Located in far north Scottsdale between Carefree and the Tonto National Forrest, residents will enjoy a captivating, one-of-a-kind view of the city lights from this exclusive perch in North Scottsdale.
Grayhawk
The Grayhawk is a large, high-end community with a wide array of housing options including upscale townhomes and condominiums and sprawling custom homes. This charming North Scottsdale community is broken up into two different neighborhoods: The Park and The Retreat. Within The gate-guarded Retreat neighborhood you will find the Public Grayhawk Golf Club, which boasts two amazing courses—The Talon Course (designed by Tom Fazio) and The Raptor Course (designed by Gary Panks and David Graham). Amenities vary based on the neighborhood, but with its diverse offerings, Grayhawk has something for families, retirees, and everything in between.
Mirabel
Situated 3,000 feet above sea level in Northeast Scottsdale, Mirabel features breathtaking panoramic views of the Sonoran Desert, the mountains, and the Valley's city lights. Located on 700-acres, this exclusive gate-guarded community offers custom homes, homesites, and El Corazon homes on 2/3 of an acre to over two acre lots. The private, award-winning Scottsdale Golf Club showcases a beautiful desert golf course designed by Tom Fazio. Resort-quality amenities are available via the Desert Lodge Clubhouse.
Terravita
Located south of Carefree's distinctive Black Mountain sits Terravita, the 823-acre gated community featuring homes in a variety of sizes. Residents enjoy membership to the Terravita Country Club, which offers spectacular amenities, such as a clubhouse, fitness center, tennis courts, and a pool. Terravita is home to an award-winning 18-hole golf course designed by Billy Casper and Greg Nash.
Troon North
Troon North is a standout when it comes to desert golf course living. Located in the Sonoran Desert at the foot of Pinnacle Peak, this North Scottsdale gated community contains some of the best luxury real estate options North Scottsdale has to offer. With its foothills and natural ravines, the topography and natural beauty of the area is visually stunning. Couple that with impeccably manicured golf courses and you have a golf lover's paradise.
Golf Magazine editor Brian McCallen called the Troon North Golf Club "the crown jewel of desert design, a 36-hole complex by which all other facilities are judged." The two golf courses that wind through Troon North include The Monument course, which was designed by Tom Weiskopf and Jay Moorish, and The Pinnacle course, designed by Tom Weiskopf. Click here for details on these award-winning courses and membership rights.
Whisper Rock
Built by Phil Mickelson in 2001 with the aid of architect Gary Stephenson, Whisper Rock is a different breed of golf club altogether. A 2012 Golf magazine article proclaims in its opening line that "more than 30 members of Whisper Rock Golf Club in Scottsdale, Arizona. play golf for a living" while going on to point out that the club is devoid of tennis courts, swimming pools and other amenities that may perhaps "distract" from the pre-eminent focus on golfing.
Because of this limitation to the "who's who" of Arizona golfdom, membership is attainable only through invitation and sponsorship. The feeling is so exclusive that even trying to gain access to the club's home page stops in your tracks without a membership login ID and password. There are no social memberships, and owning property in the Whisper Rock community incurs no membership benefits, but at least you can catch a glimpse of a few of golf's brightest stars from your back patio.
These communities are just the tip of the iceberg for what North Scottsdale's gated community real estate properties can offer. Anyone who wants access to one of these exclusive enclaves can enlist the help of Thomas Osterman to increase their odds of finding an ideal home in one of the neighborhoods.
__________________________
Do you want your next luxury home to be in a gated community? Thomas Osterman, a North Scottsdale Arizona real estate agent, has intimate knowledge of all the gated communities in North Scottsdale. Contact us via email or call (602) 405-4052 today!
Read related articles: