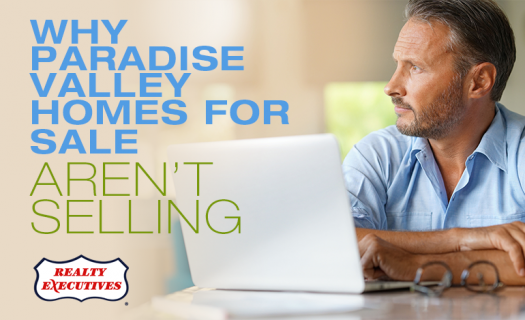 There are plenty of reasons a potential buyer looking for Paradise Valley homes for sale will opt not to make an offer on your house: the neighborhood, its size, the amount of updates needed. But what some sellers often overlook are the things they can actually control in the process. So we have compiled common reasons listed homes don't get much traction as well as a list of things you, as the seller, should not do when you put your house on the market.
1 – Your Home Is Outdated
As time passes, buyers' tastes change. If your home was built more than a decade ago in a certain style, you may find it harder to sell. Additionally, buyers are passing on huge floor plans in lieu of smaller, more simple floor plans that include intimate rooms and more open, expansive great room/kitchen areas for communal gathering. Instead of long patio outdoor spaces, buyers are interested in multiple, private outdoor living spaces to enjoy the beautiful Arizona weather.
Just as styles and layouts become outdated, so do luxury features and amenities. Things like saunas, home theaters, stainless steel fixtures, and granite countertops are becoming less popular, while steam rooms, stone slab marble showers, quartz countertops, and mixed metal fixtures are trending. Technology is also big as buyers are increasingly looking for "smart" homes.
But don't be deterred; while you can't exactly restructure your entire house to make it more marketable, there are many adjustments you can make to add to its appeal. For ideas on how to make modifications to your home that will help with resale, consult with a top Paradise Valley realtor.
2- The Home Isn't Being Marketed Well
The days of putting a sign in the yard and posting ads in some local publications is over. Roughly 90% of home buyers take to the internet when they start searching for a home. Savvy sellers take advantage of all the online and offline marketing techniques available in order to present the home to as many qualified buyers as possible. We recommend taking it to the next level by enlisting the help of a local realtor with his or her finger on the pulse of the Paradise Valley luxury market. Look for a realtor who will take quality photos/video and will make full use of social media, realty websites, and other online channels as well as high-quality printed materials to present your home in the best possible way to buyers (and their realtors) in the luxury market. Check out some of Thomas Osterman's marketing strategies here.
3 – The Home Is Priced Too High
This is arguably the single most important factor when it comes to selling a luxury home in a reasonable amount of time. Not only can it be the "kiss of death" for homes on the market, it can end up costing you in the long run. A real estate professional can perform a comparative market analysis (CMA) to determine the property's actual worth based on similar homes that have recently sold in the area, adjusting for positive and negative value depending on what your home does or doesn't have when compared to other homes which have recently sold.
4- The Home Needs Repairs
Nothing leaves a bad impression like walking into a home to find it in disrepair. Water spots on ceilings, cracked tiles, broken windows, and other tell-tale signs of possible larger issues will send potential buyers running in the opposite direction. Consult with your realtor to see what repairs need to be done in order to show your home in the best possible light when it's listed for sale.
5 – You Are Selling FSBO or You Have the Wrong Paradise Valley Realtor
When it comes to this large a financial transaction, selling your luxury Paradise Valley home on your own can be wrought with expensive pitfalls that can cause potential buyers to slip through your fingers. This can include improper pricing, lack of negotiating experience, lack of knowledge of the local market, and a number of other factors. Many sellers think that they will come out ahead by selling their own home, but the fact is that those who sell using a realtor net more profit, even with the commission.
Others hire the wrong realtor. When it comes to selling your luxury home, not just any agent will do. Luxury real estate is unique and there are several things that contribute to a successful sale in this more competitive market. Look for a Paradise Valley real estate professional with a proven track record and in-depth knowledge of the area. This will help to set you up for success from the start of the process. Here are some things to look for in your Paradise Valley realtor:
Problem solver
Great communicator
Intimate knowledge of the local area and housing market
Marketing expert (both online and offline)
Well rated with a good sphere of influence
Very detail oriented
Vast experience in luxury real estate buying/selling
What Not to Do During the Selling Process
Now that we've covered some of the reasons Paradise Valley homes for sale sit on the market for too long, here are some tips on what not to do once your home has been listed.
Stay at the house during open houses or scheduled showings.
You may be curious what potential buyers think of your property, but if you're home, they're likely to feel as if they're intruding. They won't take time to linger and open doors to check out the whole place. If they don't get a complete feel for the home, they're less likely to make an offer.
Put a lot of stipulations on selling your home.
"I'm sorry, but my home is only available to show on Saturdays between 1 pm and 3 pm." This kind of attitude won't fly in a competitive market. Make it easy for buyers to see your property by keeping it in "show" shape 24/7 with easy access by your Realtor.
Refuse to discuss options or negotiate.
You have to be open to talking about the price and added value options when you're selling your home. If you're not, it may appear that you're not serious, and you'll lose offers.
Get offended about … anything.
The saying "It's not personal, it's business" certainly applies to selling a home. Buyers may not like the way you've decorated your home or think that your asking price is too high. Remove your emotions from the equation.
Offend potential buyers.
Okay, everyone has a different tolerance level, that's true. This is one reason we suggest not being in the house when buyers come through. If you are there, keep mum and let the Realtors do the talking. Silence is definitely golden.
_______________________________________________
Are you interested in Paradise Valley homes for sale? Contact Thomas Osterman, the best real estate agent in Paradise Valley. Call 602-405-4052 to speak with Thomas today!
Read related articles: