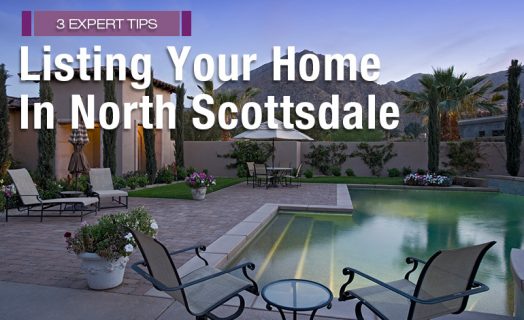 North Scottsdale is considered one of the most exclusive and desirable places to live in Arizona. The area is characterized by luxurious custom homes, high-end planned neighborhoods and golf communities, and posh resorts, country clubs, restaurants, and shopping to meet the exacting standards of its affluent residents. Located in the Sonoran desert, the views of Pinnacle Peak and surrounding areas are spectacular. While conveniently located 20 to 30 min from the hustle and bustle of downtown Phoenix and Scottsdale, North Scottsdale boasts a quiet, idyllic setting that feels worlds away.
If you are thinking of listing your home in North Scottsdale, you are probably wondering the best way to go about such a large financial transaction to get the best returns for your investment while avoiding pitfalls and unnecessary headaches along the way. With the help of an experienced North Scottsdale realtor, there are many things you can do to prepare your home for a successful sale, but here are three of the most important ones.
Three Expert Tips for Listing Your North Scottsdale Home
Tip #1: Implement a Comprehensive Marketing Strategy
A savvy North Scottsdale realtor will use a multifaceted marketing approach to your property, including both online and offline strategies.
Targeted Online Marketing Strategies
Around 90% of potential home buyers start their home search online. As such, it's critical that you find an experienced realtor with the marketing chops necessary to get your home in front of the right audience. A top North Scottsdale real estate agent will know exactly where to list your property to get the best results, so make it a priority to ask any realtor you are considering how he or she will go about this. For example, Thomas Osterman, provides his clients with listings not only on Zillow, Trulia, ostermanrealestate.com, Google, Realtor.com, Arizona Regional Multiple Listing Service (MLS) and his social media sites but also on over ninety-five national websites and over ninety international websites (depending on the home). Thomas will also have a virtual tour of your home created, which will be accessible from many of the websites where your property is listed. This allows prospective buyers to get a good sense of your home before visiting.
Effective Offline Marketing Strategies
In addition to promoting your listing online, an effective North Scottsdale real estate professional will leverage several offline marketing strategies including:
Create color brochures for those who visit your home.
Take professional measurements to design an accurate floor plan that home buyers can use to visualize the amount of space available and where they would place their furniture.
Mail out a "Just Listed" postcard to hundreds of homes near yours.
Put an eye-catching "For Sale" sign in your front yard and, when allowed, a directional sign at the end of your street.
Submit your home to all neighborhood realtor tours.
Be sure the realtor you choose uses high-quality photography services to ensure your home is portrayed in the best possible way. This is especially true for luxury homes. A picture is truly worth a thousand words, and high-quality images can be leveraged for online and offline marketing strategies to give potential buyers a true sense of what your home has to offer.
Tip #2: Use Proven Staging Strategies to Highlight Your Home
As realtors will tell you, "less is more" when preparing your home to list. The goal is to present your home in a way that allows potential buyers to imagine themselves living there. Here are some ways you can effectively stage your home:
Perform any needed minor repairs or upgrades to both the interior and exterior of your home.
Pack up personal items and take down pictures.
Declutter all areas of the home as well as the garage and yard.
Store extra furniture, boxes, and other unnecessary items discretely on-site or in a storage unit.
Tidy up landscaping around the house.
Clean out kitchen appliances and make sure they are in working order.
Consider updating old fixtures.
Keep countertops and refrigerators clear of magnets, papers, and other personal items.
Have major items like HVAC systems, hot water heaters, etc. checked and serviced.
Clear obstacles from the floors.
Touch up any scraped or peeling paint on the interior and exterior.
Consider painting over any bright colors with more neutral colors.
Thoroughly clean all areas of the home.
Replace stained or ripped up carpets or worn flooring.
Putting extra items in storage is very helpful when listing your home since it removes the extra clutter from the premises.
Additionally, put yourself into the shoes of potential buyers. What do you smell when you enter the home? It may be worth having your floors professionally cleaned, especially if you have children or pets. What is the first thing you see? Make sure your front yard and entryway look clean, kept, and inviting for the best first impression possible. Here are some additional staging tips from Thomas Osterman to set you up for success.
Tip #3: Correctly Price Your Home
Pricing your home accurately so that it sells for a good price in a reasonably short period of time is key. Correct pricing means looking at the property with a critical eye to determine its strengths and weaknesses, understanding the current market, and determining how it compares to similar homes in the area. If you own a luxury home in North Scottsdale, unique features and fewer comparable homes to reference can make accurate pricing even more difficult.
The best way to ensure that your home is priced correctly is to work with a professional North Scottsdale real estate agent like Thomas Osterman who has an intimate knowledge of the area, the local housing market, and what homes are most comparable to yours. With over $102 million in sales to date, Thomas is a leader in the industry and knows what it takes to sell high-end homes quickly while getting the maximum return on investment for his clients.
List Your Luxury Home with a Top North Scottsdale Realtor
Finding an experienced local realtor with an intimate knowledge of the North Scottsdale housing market can make all the difference when it comes to selling your home. Give Thomas Osterman a call today at (602) 405-4052 and enjoy a personalized selling experience. You will be thrilled with the result!
_________________________________
When selling your North Scottsdale home, it pays to get the best agent you can hire. Thomas Osterman, a top Paradise Valley luxury real estate agent, has over fifteen years of experience assisting clients with their Scottsdale home buying and selling needs. Give him a call today at (602) 405-4052 to get maximize the returns on your real estate.
Read Related Articles: