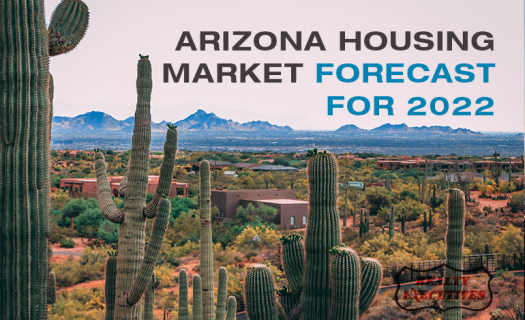 If you have been following the housing market in Arizona this past year, you know that it has been red hot.
With demand far exceeding supply, heavy competition and bidding wars made for an intense seller's market.
Phoenix and several other areas in Arizona have seen excessively high demand for homes due to the migration of out-of-state buyers into the Valley and locals looking for more space.
Low supply of lumber and other materials has also contributed to the shortage in housing options.
Will demand continue to soar in 2022? What's the Arizona housing market forecast for 2022 look like (well, at least the coming months)?
Read on to find out what experts are saying.
The U.S. Real Estate Market Will Continue To Be Hot for 2022
When it comes to home values and some other key metrics, 2021 provided the hottest housing market in the country's history.
According to Zillow and others, this trend is expected to continue in terms of sales volume and price growth.
In fact, Zillow's 2022 market forecast predicts an 11% growth in home values next year, down from the 19.5% growth projected for 2021.
Zillow estimates that existing home sales will reach 6.35 million, which would surpass the predicted 6.12 million for 2021.
That number would make 2022 the highest in home sales since 2006.
The Seller's Market Continues for 2022 in Arizona
We are currently seeing the seasonal post-summer cooldown. There are fewer homes on the market, and fewer of them are selling above the listing price.
Additionally, some sellers are reducing their price, and houses are sitting on the market a couple days longer than they did during the summer.
But that doesn't mean it is becoming a buyer's market. Sellers have had the advantage over the past couple of years due to:
Low mortgage rates
Tight supply after years of under building
Higher demand due to the rise in remote jobs and the "Sun Belt Surge"
Demographics of millennials and baby boomers competing for homes
These factors are all expected to be in play for 2022, so expect a lot of competition among buyers, especially in the spring and summer seasons.
To find your ideal property in this competitive market, we recommend using a top Phoenix or Paradise Valley buyer's agent help you with the process.
Home Prices Will Keep Rising in Phoenix, Paradise Valley, and Scottsdale
According to Realtor.com's 2022 housing forecast, we will see home prices continue to rise across the U.S. by about 2.9%, making affordability an ongoing issue for first-time and lower-budget buyers.
Mortgage rates are also projected to rise by the end of 2022, which will add to the expense of buying a home.
Locally, the Phoenix housing market trends show that the median sale price is now $410,000, which is a 28.1% year-over-year increase.
In total, 46.5% of homes sold were above the list price. Homes spent about 30 days on the market this past November, compared to 32 days in November 2020.
Luxury homes in the greater Phoenix area are following similar trends.
Homes are in high demand, even though the market is not quite as competitive as what we find in Phoenix.
Here is some data from Redfin.com:
In Paradise Valley, the median sales price is currently $2,397,500, which is a 9.2% year-over-year increase. About 20.8% of homes sold above list price, resulting in a 15.4-point jump year-over-year.
Average days on the market this past November were 55 days, compared to 66 days on the market in November 2020.
Scottsdale's median sale price is currently $717,500. This is up 19.6% from this time last year.
Homes sold after 34 days on the market this past November, compared with 42 days on the market in November 2020.
In Scottsdale, 36% of homes sold above list price in 2021, which is up 15.9% year-over-year.
New builds in these areas are also up, with the average price range of $7-20 million.
The "Sun Belt Surge" Will Continue and Expand
The Sun Belt Surge refers to the movement of coastal area residents to sunny inland locations with strong local economies, plentiful sunshine, and affordable prices for family-sized homes.
These areas include our very own Phoenix as well as Austin and Nashville.
This migration is possible due to the rise in, and continuation of, remote work opportunities due to the pandemic, which is expected to continue in 2022.
Jobs Will Continue Playing into Moving Decisions
More flexible work options over the past year and a half have led to a shift in where buyers are looking.
Short commutes are no longer a prime motivator, which means that many people who work in downtown areas no longer feel the need to pay the high prices that accompany it.
Now, more space and affordability are the name of the game, leading those looking to buy into suburban housing markets.
Mortgage Rates are Predicted To Rise in 2022
As we continue to recover from the effects of the pandemic that has rattled our economy for nearly two years now, and with inflation rising, the consensus from experts is that there will be a rise in interest rates for 2022.
How big of a rise? Experts are split, but generally, it is thought that we will get up into the high three to low 4% range for a 30-year mortgage by the end of next year.
Many mortgage experts recommend securing financing in early 2022 to take advantage of the current low rates.
Buying or Selling a Home in Phoenix, Paradise Valley, and Scottsdale, AZ
As you can see, barring any unforeseen events or massive interest rate bumps, we will be seeing a housing market similar to what we saw last year.
If you are selling, now is a great time to list your home.
Although the market is competitive, an experienced luxury real estate agent can help you find that perfect home at the best possible price.
Contact Thomas Osterman and let him put his decades of experience to work for you!
---
Are you looking to buy or sell your home and you're in the Greater Phoenix Valley? Work with a real estate agent that has experience helping luxury home sellers and buyers get the most for their investments for decades! Call Thomas today at (602) 405-4052 and enjoy a more personalized real estate experience today.
Related Articles: