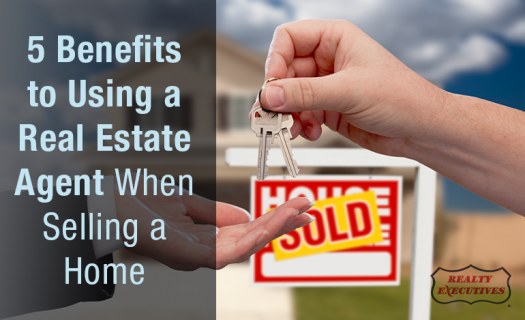 The real estate markets are red hot right now in Paradise Valley, Scottsdale, and nearby cities.
If you are thinking of selling your luxury home, you might be wondering if it is worth using a real estate agent.
After all, with homes getting snatched up so quickly, wouldn't it be easier to just use Open Door, 72 Sold, or another similar service?
How about listing your home For Sale By Owner?
The short answer to this is yes.
Read on to learn five reasons to use a real estate agent when selling your luxury home.
Reasons to Hire an Experienced Realtor to Sell Your Luxury Property
1. Pricing a Luxury Home Correctly Requires a Professional
Even in a hot market, pricing a luxury home is incredibly important.
After all, you want to get the most from the sale of your home, right?
No one wants to leave money on the table.
Pricing should be competitive and should account for all the amazing features that the home offers.
A luxury realtor will be able to perform a competitive market analysis of your home's worth based on its location, condition, square footage, and more.
But beyond that, a knowledgeable real estate agent will be able to determine the value of the luxury amenities your home has and accurately account for them in the price of your property.
This will help you get the most out of your sale.
2. Luxury Homes Are Unique, and So Are the Preferences of Luxury Buyers
The process for selling luxury homes is much different than the typical home selling process.
Your average home listing is fairly straightforward, as the prices are predictable based on the home's age, condition, location, number of rooms, etc.
Selling luxury homes is more of an art form.
Because these homes tend to have incredibly unique features, it's important to tell a story that connects with and draws in the ideal buyers.
You aren't just selling a home; you are selling a lifestyle.
Whether it is a helicopter pad, a basement bowling alley, a gourmet kitchen that would make Gordon Ramsay jealous, or other stand-out features, it's all about presenting the property to the right audience who is interested in such amenities.
A veteran luxury real estate agent in Paradise Valley (or the area in which you are looking to sell) will know exactly how to reach your target audience, resulting in a more expedient selling process.
3. Luxury Real Estate Agents Understand What It Takes to Market Your Luxury Home
To sell a luxury home for the most money, it's not enough to take some quality photos, post the listing to realtor.com, schedule an open house with baked goods and coffee, and call it a day.
Your typical luxury buyer isn't necessarily going to be searching for homes in the same way as the average buyer would.
It's key to market to your audience in more creative and comprehensive ways.
Of course, traditional mailings and print ads, along with posting on popular real estate websites, are part of the process.
But savvy luxury agents will also utilize other methods to expand their reach.
These should include:
Social media
Broker open houses (when appropriate)
A realtor's personal website/blog
Niche real estate websites for luxury properties like the Robb Report, duPont Registry, and others (national and international)
Networking with other luxury agents in the area
Taking professional photos/videos to present to potential buyers
Virtual tours
Professional measurements of your home to create a floor plan so potential buyers can study the layout
Well-publicized open houses or launches
High-quality "for sale" sign for the property as well as directional signs nearby
And more
Seasoned luxury real estate agents have the tools and connections to market your luxury property to get the fastest results for the best price.
Best of all, you don't have to lift a finger!
4. Staging a Luxury Home for Sale Is Key
While staging probably won't sell your home, it will help you present it in the best possible way by maximizing the good and minimizing the not-so-good!
Good staging helps potential buyers imagine themselves in the home.
Here are some facts about staging according to the National Association of REALTORS®:
47% of buyers' agents said that home staging had an effect on most buyers' view of a home.
83% of buyers' agents also reported that staging made it easier for potential buyers to visualize a property as a potential future home.
44% of buyers' agents say that staging a home increases the amount offered.
Not sure where to start?
Here is a comprehensive staging checklist to help you stage your property for success.
5. Expert Luxury Real Estate Agents Eliminate Headaches and Yield Higher Selling Prices
High-end agents have a wealth of knowledge and a keen understanding of their market.
By enlisting the help of an agent, you can avoid pitfalls and sell your home for the most money.
A good realtor will be able to negotiate effectively, provide guidance, screen potential buyers, field questions around the clock, and protect your rights as a seller.
They also remove the emotional component from the home selling process.
Are you wondering if you will save money by going it alone?
According to the data, the answer to that is no.
In fact, using an agent can help you save tens of thousands of dollars.
Finding a Real Estate Agent to Sell Your Luxury Home in Paradise Valley
There you have it.
Those are just five reasons to work with a trusted luxury real estate agent to sell your high-end home.
If you are looking to sell your luxury property in Paradise Valley, Scottsdale, or Phoenix, get in touch with Thomas Osterman.
Decades in the local real estate market make him a top choice among luxury home buyers and sellers.
Learn more about Thomas or connect with him today!
---
Are you ready to sell your home in the Greater Phoenix Valley? Work with a real estate agent that has experience helping luxury home sellers and buyers get the most for their investments for decades! Call Thomas today at (602) 405-4052 and enjoy a more personalized real estate experience today.
Keep Reading!