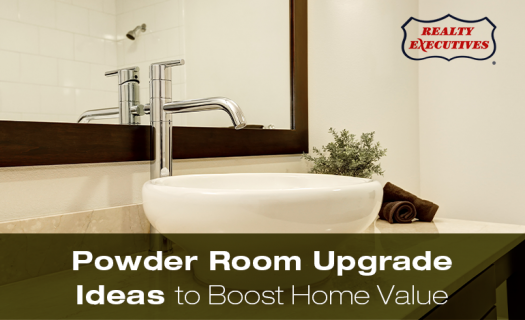 You've probably heard that you should spend your home-improvement money in the rooms with water, namely kitchens and bathrooms. Even a powder room upgrade can enhance your properties home value. Investing time and money into a bathroom is always a good idea and you can do that while keeping your costs low and your return high.
Paint
Nothing spruces up a room faster than a new coat of pain. Since bathrooms are typically small spaces broken up by the vanity, tub, etc., homeowners often choose to paint the whole room the same color. If you're planning to put your home on the market, stick to neutral colors, but if not, you can try something a little more bold. Just keep in mind that in a small space with limited natural light, a darker color will make it look smaller.
Hardware
With a much lower price point than all new cabinetry, hardware can go a long way to give your bathroom a new, fresher look. You can match handles with hinges and then match those with holders for a complete look. Nickel is popular now because of its versatility, but your choice may depend more on your bathroom color and type of cabinets.
Cabinetry
If you only have a sink vanity, a new one can be a minimal investment. But if the bones of the cabinet are solid, how about replacing or refinishing the doors? A matte black stain is very modern and will immediately upgrade your room to model-home level.
Lighting
Bathroom lighting fixtures in an older home can really feel old, especially if they're fluorescent or an old-style brass fixture, for example. Make sure your new lights are beautiful and functional. Is your shower too dark? A recessed can light will add instant brightness. Or how about some track lighting? And be sure you have good lights shining on the vanity mirrors for primping and last-minute hair checks.
One lighting option is eye-level wall sconces, which brighten up the room without casting shadows, as ceiling lights will. Add candles or a small lamp to the vanity or back of the commode for ambient mood lighting.
Accessories
Since bathrooms are small, this is an area where you may choose to go big and bold. Neutral walls can be the perfect backdrop for colorful pictures and a basket of fluffy towels. A bath mat is not only functional but can add a statement all on its own. And don't forget the shower curtain, which is often the decorating focus of a smaller bath.
Who says you only have to have one mirror? Try a large mirror with a bold picture frame over the sink and then little ones clustered together on a focal wall. They will reflect the light and make the whole room feel brighter.
Lest we not forget the little touches, such as a toothbrush holder filled instead with silk flowers, beautiful ceramic bowls for toiletries, and baskets to hold extra supplies. While some might see these components as afterthoughts, the truth is that the little things can bring the whole room together.
____________________________________
Are you interested in a Paradise Valley AZ real estate? Contact Thomas Osterman, an experienced Paradise Valley real estate agent. Call 602-405-4052 to speak with Thomas today!
Read related articles: