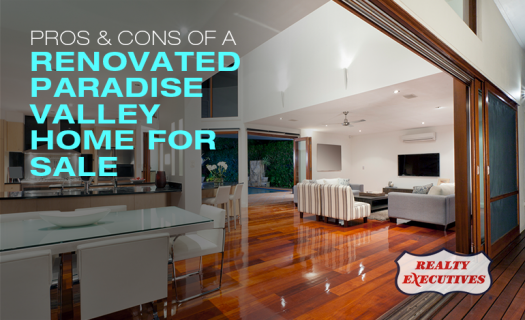 Moving can be an exciting and somewhat stressful experience, as you are looking for the perfect space for you and your family. Your options for a brand new home can seem limited, especially if you are looking for a house in a certain part of the Scottsdale area. With a renovated Paradise Valley home for sale, you can have that like-new space you crave, among the other benefits of moving into an updated abode.
The Home Is Move-In Ready
Arguably, the best part of moving into a renovated Paradise Valley home is the fact that the space is move-in ready. This means that walls hopefully don't have to be painted, floors don't have to be redone, so on and so forth. You and your family will have an easier transition from home to home, which is especially great if you are moving with small children.
Cons: The tricky part with home renovations is design or style. If you like the renovation then great, but there are times when a newly renovated home is not appealing due to a design style. You just have to decide if you would rather have the opportunity to move right in and get settled, and in some cases look past certain dislikes, or do you want to have a hand in making the design "your own" and making sure all elements within the home match your style?
Updates Won't Be Necessary for Years
Aside from the convenience of being able to start enjoying your new home immediately, these renovations will last your family years to come. You won't have to worry about updating the space for at least 10 years, which can give you peace of mind during a stressful move. It is highly likely that these Paradise Valley home amenities are current with the latest technologies, which will give you that new-home feel. The best news is that the location of your home will always be a draw to new buyers, so you can rest assured knowing that your ROI on a renovated space has a positive outlook.
Cons: Smart home technologies can boost the efficiency of the home, which will help you save on your monthly energy costs. The only challenge with technology is that it's always changing. So, although you may not "need" to upgrade the technology in the home because it functions, it may simply become out of date sooner than you would expect. With the rate that technology is changing these days, no matter where you live and what the most recent upgrade was, there is a good chance you'll be replacing it sooner than you thought.
The Renovated Paradise Valley Home for Sale Is Sound
Knowing that the renovated home you're looking to buy in Paradise Valley was accurately upgraded can put your mind at ease as you search for the perfect space to live in. Having to learn about permits and laws related to making certain upgrades to your Paradise Valley home can be a full-time job. Walking into a home that has already been renovated can help you avoid a lot of potential headaches and save you a lot of time.
Cons: You may be uneasy about the legitimacy of the renovations that were made in the home. If this is the case you can ask your PV real estate professionals in AZ to seek the builder's information. They will be able to make sure that the contractors were properly licensed and that the work was permitted, according to the Arizona building laws.
Though it can be said that these newly renovated homes for sale in Paradise Valley can cost more than your average fixer-upper, the costs of renovating the house yourself can be much higher. Consider the pros and cons mentioned in this article and trust your intuition about what will work best for you and your family.
____________________________________
Are you looking for a luxurious renovated Paradise Valley Home for sale? Thomas Osterman, an experienced Paradise Valley Realtor, can assist you with your home buying process. Contact us via email or call (602) 405-4052 today!
Read related articles: