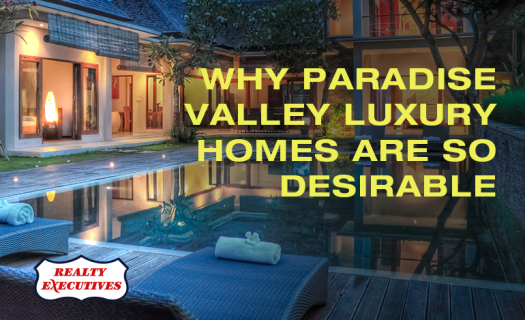 If you are looking to buy a luxury home in the Phoenix area, you've probably already heard about Paradise Valley. Ranked by Bloomberg as 18th on the list of America's 100 Richest Places, Paradise Valley has a charming atmosphere, natural beauty, and privacy that residents appreciate.
This beautiful sixteen square mile stretch tucked between Scottsdale and Phoenix is well known for its posh resorts, famous residents, custom homes, and amazing scenery.
As a potential home buyer, it is worth checking out this prestigious community. Read on to learn why Paradise Valley luxury homes are so desirable.
Quiet Charm
The residents of Paradise Valley cherish its quiet, private atmosphere. What began as an agrarian community blossomed after World War II as more and more residents began to settle in the area. In 1961, residents incorporated the community as the Town of Paradise Valley to ensure that the peaceful, low-key area was not overrun by surrounding cities. As residents say, "There is a reason we call this valley paradise."
Beautiful Surroundings
Paradise Valley is adorned with picturesque estates on large lots, immaculately landscaped resorts, and amazing natural views of iconic Camelback Mountain and idyllic desert surroundings. And the endless sunshine doesn't hurt either.
A Variety of Real Estate Options
As a home buyer, you will be delighted by the diverse mix of homes for sale in Paradise Valley. From 1950s brick ranches with natural landscaping to white pillared mansions with well-kept lawns and topiary trees to the more modern estates featuring glass and steel walls, you are presented with a variety of options to suite your preferences. Most homes are concealed behind oleander hedges, gates, and long driveways, making them a private oasis from the daily hustle and bustle. But these gorgeous homes do come at a price—often double or triple the price of surrounding areas like central Scottsdale and Carefree.
If you love the location but are having trouble finding a home you like, you might consider what some other home buyers in this highly sought-after area are doing—buying empty lots or older homes to tear down, leaving a blank slate for you to build the home of your dreams based on your unique style and budget.
Would you prefer something smaller with less maintenance? Bella Terra offers 1-, 2-, and 3-bedroom luxury condos, complete with fireplaces and beautiful modern kitchens featuring stainless steel appliances and granite countertops.
Close Proximity to Shopping and Dining
While Paradise Valley offers privacy and seclusion, there is no shortage of amenities nearby! Whether you enjoy small boutiques or large upscale shopping centers, there are a plethora of options available, including Scottsdale Fashion Mall, Biltmore Fashion Park, Paradise Valley Mall and coming soon—The Palmeraie®—which will be home to over 70 luxury and specialty boutiques. If you are looking for something unique, Scottsdale is great for high-end shopping while downtown Glendale is known for antiques. For vintage finds, head over to central Phoenix or shop uptown Phoenix to shop for items with a more urban feel.
Whether you are looking for a small café or a 5-star restaurant, you can find it within minutes of your Paradise Valley luxury home. Enjoy dinner and take in the spectacular sunset views at a Paradise Valley landmark, El Chorro Lodge, or visit one of the posh resorts close by for world-class dining. Neighboring Scottsdale and Phoenix have a variety of dining options for any preference.
Entertainment
Paradise Valley residents have access to a wide array of entertainment options in the greater Phoenix area. Whether it is an off-Broadway show, outdoor concert, Farmers Market, or trip to the casino, you can find something to do at any time of the day or night. Old Town Scottsdale, just east of Paradise Valley, is a popular hangout for affluent residents. Biltmore, just west of Paradise Valley, is also a popular area with posh shopping and dining establishments. There are also a dozen top-shelf resorts located nearby for some pampering and relaxation or an amazing 5-star dining experience.
If you enjoy the outdoors, the Town of Paradise Valley is a great place to call home! Hikers can take on one of Camelback Mountain's two trails, which are over a mile long and include a 1,280-foot ascent. Bikers will appreciate Paradise Valley and Scottsdale's bike-friendly roads with cycling lanes. If you enjoy a more leisure outdoor experience, McDowell Sonoran Preserve offers beautiful surroundings and over 100 miles of trails, many for easy hikes.
The Arizona Canal, which winds through Phoenix and Scottsdale, is the perfect place for people of all ages to take a stroll. You can even dine, enjoy a craft beer, take part in history lessons, or check out the bats along the way.
Golf
If you are an avid golfer, you will love the Paradise Valley Country Club. This 200+ acre country club, established in 1953, features a private 18-hole golf course with six sets of tees for varying skill levels. This parkland-style course has a slope rating of 132, is 6887 yards from the longest tees, and has a 73 USGA rating. The club itself is invitation-only and, in addition to golf, offers tennis, swimming, four separate dining options, social activities, and an ultra-modern fitness center. Need more variety? There are over 200 golf courses in the Phoenix area waiting to be conquered.
Location, Location, Location
As one of the most coveted and prestigious areas in Phoenix to live, Paradise Valley is a jewel because of its beautiful weather year-round and proximity to just about everything. Within minutes, residents have access to shopping, dining, entertainment, and more. If you need a change of scenery, it is a quick flight to L.A., San Diego, and Vegas or a couple hour drive to Flagstaff to ski the slopes in winter.
Finding the Perfect Paradise Valley Luxury Home
If you are searching for a luxury home in Paradise Valley, you will want an experienced realtor to help you find just what you are looking for. Thomas Osterman has been helping clients with luxury home purchases in the Phoenix area for over fifteen years. Feel free to contact him if you have any questions about the area or would like assistance with your home purchase.
_________________________________
Looking for the perfect Paradise Valley home? Thomas Osterman, a top Paradise Valley AZ real estate professional, has over fifteen years of experience assisting clients with their home buying and selling needs. Give him a call today at (602) 405-4052 and find just what you are looking for.
Read Related Articles: