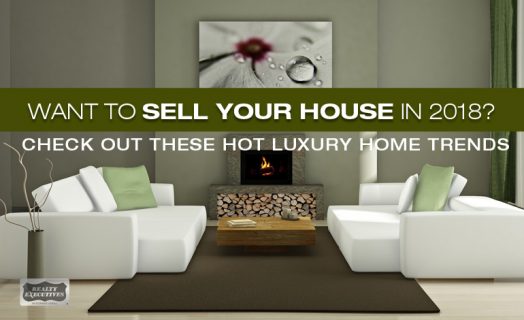 Selling your home is a complicated process. You want the right price and a quick sale, but need to attract people who will love your home.
One way to do that is to incorporate current home trends into your decor. No need to spend time hiring a contractor and doing big renovations though. All of these are quick interior design changes.
Check out the hottest home decor trends below that will help you sell your house more quickly.
Mixing Metals
In fashion, makeup, and other spaces metallics are all the rage right now. Rose gold is having such a moment, they even made an iPhone in it!
Metallics aren't anything new when it comes to home hardware, but mixing them is. Many home trends sources are featuring rooms decorated with bronze and gold or other combinations.
Here's how to incorporate metallic mixing decoration trends:
The main metal you choose depends on how Avante garde you want to be with this home trend. Right now, we're loving bright and light golds, but classic stainless silver works too.
Once you have that in mind and those finishes picked out, decide what your accessory metal will be.
We like to stick with color families (warm gold and warm bronze), but how much you mix it up is up to you. Don't be afraid to bring warm colors into a cool space and vice versa.
A gold in a grey-based bathroom will add a sense of elegance, while silver in a warm space adds modernity.
While you're being Avante garde, try bringing your home trends game up a notch with textures. We love a hammered gold or rose gold sink basin or brushed metallic finishes.
Not planning on changing your home decor too much? Give a room a touch of this home decor trend with new metallic light fixtures. They give you an easy way to play with this design trend!
Colored Appliances
Colored appliances are back, but not like you saw in your grandma's kitchen. We're not talking about mustard yellows, light pinks, and tinged greens.
The new colored appliances are much more chic, with colors like Caribbean blue and ultraviolet. These appliances give kitchens a central focus and a pop of color in a neutral-cabinet world.
It's easy to incorporate this hot trend, all you need is a colorful piece! Most of the time, we're seeing this in kitchen ranges. The range's central (to cabinets) location makes it easier to pull off a pop of color.
To not overwhelm, make sure cabinets are in a neutral, or light, complimentary tone. It doesn't have to be all white! Pick a color that makes your range pop while balancing out the funky conversation piece.
Bathroom Retreats
Yes, a beautiful master bath has always been a home design staple. In 2018, that expectation just went up a notch.
Instead of clean and bright open spaces, we're seeing textured walls, stone elements, and organic color palettes. Buyers will love seeing themselves and their morning routine in an earthy aesthetic.
Featuring Your New Home Trends
Now that your home is up to date with the latest home trends, capitalize on those updates! When you're having your home photographed, ask the professional to feature new spaces.
When your realtor is putting your home profile together, ask them to keep newer photos near the front/top of your listing. This will catch the eye of potential buyers and make them pay attention.
To find someone who can do your home justice and has the necessary experience to sell your luxury home, contact us soon!
_________________________________
If you are thinking of selling your home this year, contact Thomas Osterman, a leader among North Central Phoenix real estate professionals! He can show you how to capitalize on the latest home trends to sell your home for top dollar.
Call Thomas at (602) 405-4052 and enjoy a more personalized real estate experience.
Read Related Articles: