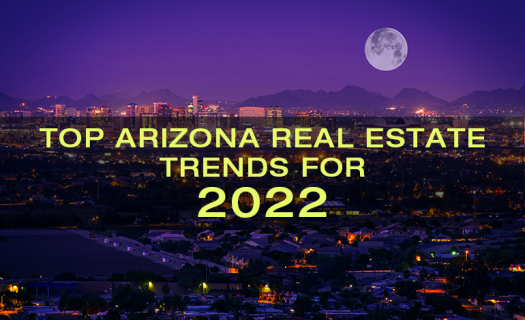 The pandemic brought on a whirlwind of changes to the Arizona real estate market, the likes of which most analysts would have never predicted three years ago.
Skyrocketing home prices, low-interest rates, and a shift in home buying trends for many areas changed the landscape, at least for the near future.
This begs the question: What are the top Arizona real estate trends for 2022?
We have pulled together information from several experts to give you a sense of what the real estate world will look like this year.
Regardless of whether you are a buyer or seller, if you will be wading into the real estate waters, we recommend working with an experienced Arizona real estate agent to help you navigate the best deal with the least amount of headaches.
Read on for this year's trends.
Interest Rates Are Going Up
This has been the predicted trend for a while now, and we can see interest rates starting to creep up after coronavirus caused numbers to dip below the three percent range.
As of the end of January, Bankrate shows that current rates for a 30-year fixed-rate mortgage are around 3.76 percent.
Analysts predict a continued increase following Fed Chair Jerome Powell's announcement that the federal funds rate will be raised three times in 2022.
That, coupled with the phase-out of the bond-buying program, will likely trigger the rise.
Of course, this may depend on whether or not future COVID variants require federal intervention.
The Housing Shortage Will Continue for 2022
It is projected that the housing inventory for existing and new homes will remain low for 2022 due to a buying surge during the pandemic.
Experts think this is due to the pandemic making sellers hesitant to put their homes on the market given the difficulty they will have securing another home (or even an affordable rental).
New home construction hasn't been able to keep up with the high demand due to supply chain issues, increased construction costs, and other factors, adding to the shortage.
The Seller's Market Continues Into 2022
2021 was a seller's market on steroids. With higher home values and low inventory, it was a wonderful time to put your house on the market. 2022 is shaping up to continue the trend.
According to Realtor.com, inventory is predicted to rebound slightly with an uptick in inventory of 0.3% on average.
That's better news for those looking to buy this year.
Phoenix-Mesa-Scottsdale, Arizona, Make the Top 20 U.S. Housing Markets for 2022
Here in Arizona, there are a couple of markets that continue to be hot going into 2022. Chief among them, according to Realtor.com's 2022 Top Housing Markets Ranked, is the Phoenix-Mesa-Scottsdale area, which came in at number nineteen.
Tucson came in at number twenty-one on the list.
As a part of the Sun Belt Surge, Phoenix and nearby communities are drawing in scores of new buyers, many of whom are from coastal areas looking to relocate to the Phoenix area because of its strong economy, plentiful job opportunities, affordability, beautiful weather, and top-notch golf courses.
As such, expect demand and home prices to increase as buyers look to set down roots in areas like Mesa, Phoenix, Scottsdale, and Paradise Valley.
Rising Rent Prices Make Buying More Affordable (in Some Cases)
Many would-be homebuyers are trying to wait it out and rent until the housing market has cooled down.
However, the demand for rentals has created a rental shortage, leading to a spike in rent, especially for rentals with higher square footage.
This was the case in 2021, and it continues into 2022.
For context, in the area of Phoenix-Mesa-Scottsdale, Arizona, the median rent is $1643.00.
Rent is up a whopping 23.5% year over year. The percentage of cost difference for buying versus renting is 5.8%, making the case for buying a starter home more appealing.
This is the case in many large metropolitan areas across the United States.
Digitization Becomes Increasingly Popular
Demand for virtual real estate services continue to grow as COVID lingers and more younger buyers enter the real estate market.
This includes everything from higher demand for virtual tours and staging to 3D tours and even drone videos.
In fact, some buyers are purchasing homes without ever stepping foot inside of them prior to the purchase.
Online mortgage lenders are also gaining popularity as potential buyers can get their mortgage online.
iBuyers are also evolving and taking convenience to another level.
These companies will offer to buy a home for a near-instant cash offer based on the results of their algorithms, allowing homeowners to sell their home in a fraction of the time it would traditionally take.
Some of these iBuyers have even gotten into the lending business and will pre-approve customers for a mortgage so they can make a home purchase.
Gen Z and Millennial Buyers Are Being Priced Out of the Home Buying Market
Higher interest rates, along with rising home prices, are making first-time home buying unaffordable for a growing number of Millennial and Gen Z buyers, who happen to be many of the home buyers right now.
As an example of how fast home prices are rising, according to CoreLogic, U.S. home values appreciated by 18% (annual rate) in October.
This is the highest level recorded in the index's forty-five-year tracking history.
To make things more complicated, there is roughly a 5.24 million home shortage nationwide, leading to bidding wars that cause potential home buyers to pay well above asking price.
The Luxury Real Estate Market Continues to Be Highly Competitive
For 2022, low inventory on luxury properties in Arizona will continue to squeeze the top 10% of the real estate market.
Data shows that just in September of 2021, 36% more luxury homes were sold than went on the market.
Inventory shortages are projected to continue given the lack of current homes for sale along with supply chain and work shortage issues, which are delaying new construction.
More than ever before, serious homebuyers should seek out an experienced luxury real estate agent in their local market, as the competition for luxury properties is fierce and time is of the essence when it comes to putting down offers.
Finding Your Next Luxury Home in Phoenix, Scottsdale, or Paradise Valley
If you are ready to find your dream luxury home this year, these trends will help you get a sense of what the market will be like.
As mentioned previously, it's important to work with an experienced luxury realtor to help you list your home for the best price or negotiate the best deal on a luxury property.
Thomas Osterman has over two decades of experience helping clients achieve their goals. Contact him today and put his experience to work for you.
---
Are you looking to buy or sell your home in the Greater Phoenix area? Work with a real estate agent that has experience helping luxury home sellers and buyers get the most for their investments for decades! Call Thomas today at (602) 405-4052 and enjoy a more personalized real estate experience today.
Related Articles: