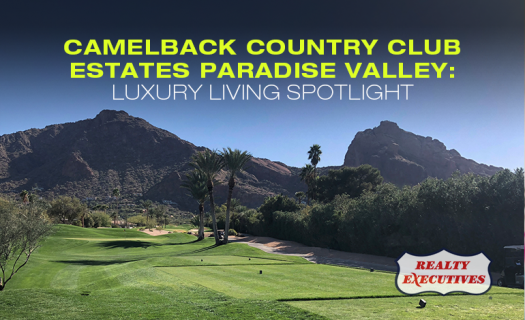 Imagine taking a short drive home from a busy day at the office to the exclusive quiet of a gated community, a spacious yard surrounded by a sprawling golf course and a beautiful view of the Phoenix area mountains. Camelback Country Club Estates puts all of this within your reach.
Located in beautiful Paradise Valley—one of the wealthiest communities in the United States—Camelback Country Club Estates is home to the most elite clientele, including athletes, corporate executives, and actors. It's secluded, but an accessible location makes it the ideal retreat for those with a demanding lifestyle in the Phoenix area. Read on to see for yourself: What makes this community so special? A Camelback Country Club Estates Paradise Valley real estate agent will happily provide you more detailed information while maintaining strict client confidentiality.
An Exclusive Gated Community
Paradise Valley has been a draw for the rich and famous for a long time, thanks to its close proximity to Phoenix and Scottsdale, beautiful views of landmarks such as Camelback Mountain, and large home lots. With state-of-the-art security and a secluded location, Camelback Country Club Estates offers both the privacy you need and a community of individuals and families in your same echelon. Because, as you know, privacy is one of the truest luxuries.
A Golf Community Lifestyle
The golfing community that's become synonymous with Scottsdale and its surrounding areas is alive and well in Camelback Country Club Estates, which offers its own expansive golf course on its grounds. Who wouldn't want to wake up to such easy access to 36 pristine holes of golf every weekend?
Residents of Camelback Country Club Estates may be interested in the nearby Paradise Valley Country Club as well. Since its foundation in 1953, this club has been one of the most exclusive in the area for decades. But getting into the club will be no easy feat; two current members who've belonged to the club for more than two years each must submit your name for you to be considered. The club itself does not even publish its membership fee. For those who value exclusivity, belonging to the Paradise Valley Country Club is the ultimate goal.
Beautiful Homes on Spacious Lots
As with most residential real estate in Paradise Valley, homes for sale in Camelback Country Club Estates offer spacious lots with landscaping to mimic the natural beauty of the area. Though you'll find all of the shops you need nearby, the spacious home lots in Paradise Valley don't have to compete with large commercial lots.
The town of Paradise Valley actually began as a collection of rural settlements and slowly evolved into more lots of spacious, single-family homes. With some dude ranches still remaining, Paradise Valley offers an authentic Western living experience within an easy commute to more urban areas.
Searching for a new home is a hefty undertaking, especially when you know you want the best of the best. Paradise Valley, and more specifically Camelback Country Club Estates, offers the highest-end of luxurious living.
____________________________________
Are you interested in houses for sale in Camelback Country Club Estates? Contact Thomas Osterman, an experienced Paradise Valley Realtor. Call 602-405-4052 to speak with Thomas now!
Read related articles: