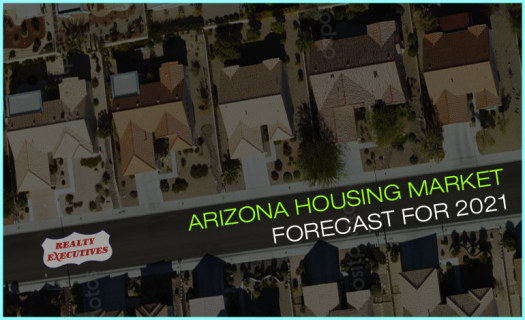 2020 has been anything but typical—and not in a good way.
From a worldwide pandemic and related economic uncertainty to a tumultuous election, most of us are ready to lock the door and throw away the key when the calendar hits 2021.
But one thing is for certain; the Phoenix housing market has been booming in recent months due to high buyer demand.
After a dip in real estate transactions due to the initial COVID-19 outbreak, buyers came out of the woodwork to quickly snatch up the slim inventory of homes on the market.
In fact, according to the ARMLS Q3 report, the average days on the market for a home in Maricopa County, AZ, is around 34, which is down 17.8% from last year.
Will this trend continue? What will Arizona's housing market look like in 2021? Read on to see what the experts have to say.
2021 Phoenix Real Estate Market Forecast
Home Values Continue to Rise in Phoenix, Scottsdale, and Surrounding Areas
Zillow has some compelling data to be aware of as we head into 2021.
Over the past year, Phoenix home values have gone up 12.6%, and are expected to rise by another 8.5% in the next twelve months.
Home values for the Phoenix-Mesa-Scottsdale Metro area have risen 11.7% in the past year and are predicted to go up another 7.7% in the next twelve months.
There Won't Be a Housing Market Crash in Arizona in 2021
The Housing Market Recovery Index from Realtor.com shows that the Phoenix-Mesa-Scottsdale metro area is coming back from the unavoidable decline earlier this year. This index factors in supply, housing demand, prices, and the pace of sales on a weekly basis.
The benchmark for recovery happened in July. While this is only one area, it points to how the state is recovering from COVID-19. Experts do not anticipate a crash in 2021 based on the data.
Phoenix-area Home Sales Will Likely Surge for 2021
Realtor.com's 2021 Housing Forecast predicts Valley home sales to increase 11.4% from 2020. This is the eleventh largest expected increase among the 100 top metro areas in the United States, making it one of the hottest housing markets in the nation for 2021.
This could present a challenge for buyers as affordability dwindles. Having a top Phoenix or Paradise Valley buyer's agent can help buyers get the property they are looking for at the best possible price.
Interest Rates Could Start to Rise in 2021
Undoubtedly, this year's record-low interest rates were a contributing factor in the real estate market, and they continue to help boost sales. However, lenders are requiring higher credit scores due to the current economic uncertainties.
Also, lenders like The MBA predict that interest rates will creep up to 3.3% by this time next year and could go even higher depending on who takes the two Senate seats in Georgia's January runoff election.
More stringent lending requirements, coupled with slightly higher interest rates, could have an impact on the real estate market.
Buying or Selling in Phoenix, Scottsdale, and Paradise Valley, AZ
All-in-all, things are looking good for the Greater Phoenix real estate market in the coming year. Of course, having a highly experienced local realtor can make all the difference in this competitive market.
Thomas Osterman has been helping clients buy and sell homes for nearly three decades. Get in touch with him today at (602) 405-4052 to put his expertise to work for you!
---
Work with a veteran real estate agent dedicated to helping luxury home buyers and sellers get the most for their investments. Call Thomas today at (602) 405-4052 and enjoy a more personalized real estate experience.
Keep Reading!